Monday, November 23rd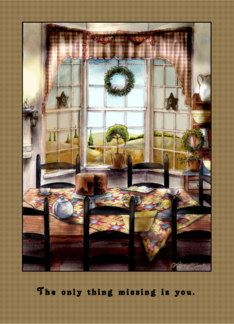 Thanksgiving Day, celebrated in the US on the fourth Thursday in November, is a day of family and friends gathering together for good cheer and fellowship. It is estimated by Waze that 46.3 million Americans will be driving more than 50 miles this Thanksgiving, and Airlines for America predicts that 25.3 million people will travel on U.S. airlines.
But some people don't make it home for Thanksgiving. It might be because of work or school schedules, lack of funds, or military service. For those people, perhaps Skype, FaceTime, or the cellphone is the closest they'll get to connecting with friends and family. But, whether near or far, we can let those we love and care for know that we're thinking of them on Thanksgiving. Maybe send them a special food item that they associate with the holidays, or a "Remember when …" note in a greeting card. Did your siblings and you put olives on your fingers while "helping" Grandma in the kitchen? Did all guests take a turn at saying what they were thankful for? Was the oldest grandchild allowed to light the candles on the table? Let your far away loved ones know that, even though they aren't with you, you still share the special memories of Thanksgiving. It will help them feel less lonely.
Greeting Card Universe has the perfect card for those you're missing on Thanksgiving.
Missing you on Thanksgiving Greeting Cards
For those who won't be with family for Thanksgiving, Friendsgiving is an option.
Friendsgiving is a Thanksgiving Day feast for and by friends. It's a way to celebrate the holiday with the "family" you've made where you live.
GCU has put together a Friendsgiving Pinterest Board
We here at Greeting Card Universe are thankful for our friends and family, and we send good wishes to you for a happy Thanksgiving.
Greeting Card Universe allows you to write a personal message on the inside of the card, and we will even mail it for you! It's easy and quick.