Tuesday, April 21st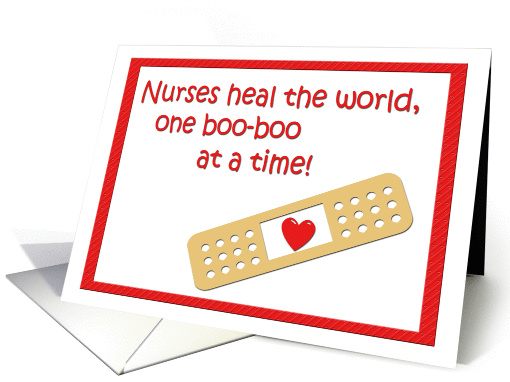 Since ancient times, there have been men and women who assisted healers and physicians with helping patients. Since the mid 19th century and Florence Nightingale's establishment of a formal and respectable nursing profession, other nurses have added their contributions to the professional health care field. Here are three of these extraordinary women you may not know:
Mary "Mother" Seacole: Born in Jamaica in 1805, she became a nurse (though she had no formal medical training) and spent years treating patients in Cuba and Panama during yellow fever and cholera epidemics. After being refused service in the British Army during the Crimean War because of her race, she funded her own trip, founded a hospital, and treated wounded soldiers. After the war, she was eventually honored and given the recognition she deserved.
Mary Adelaide Nutting: A Canadian nurse and suffragette who promoted formal training and education for nurses, in 1891 she was among the first graduating nursers of Johns Hopkins University. Later becoming JHU's second superintendent of nursing, she made improvements to educational standards. She went on to establish new opportunities for nurses at Columbia University, was instrumental in recruiting volunteer nurses during WWI, and helped create the American Journal of Nursing, among other important publications.
Lillian Wald: A nurse and social worker, and advocate of women and minorities, she was instrumental in establishing the Visiting Nursing Service of New York in 1901, which provided much needed health care to indigent and immigrant families. Through her tireless efforts at gaining the support of government health agencies and the Public Health Service, the once deadly cholera and other epidemic outbreaks that swept like wildfire through poorer neighborhoods were greatly reduced. She was also supportive of minority rights and involved in the formation of the NAACP.
On Nurses Day (May 6), Greeting Card Universe joins you in celebrating the dedicated RNs, LPNs and other nursing professionals who work hard every day to heal their patients and help them feel better. Give your appreciation with a unique Nurses Day cards – just order on-line, add a personal message and we'll send your card the next business day. Or take advantage of free in-store pick-up – usually in 1 hour – at most Target and Bartell Drug Stores.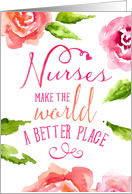 What Are Happy Shoppers Saying About Greeting Card Universe?
"I just got my first order on Saturday, and I was impressed! The cards looked great, they arrived on time, and the prices were so reasonable…now I don't have to settle for the $1 cards from the drugstore! Not that some weren't pretty nice, but the selection (especially for anniversaries) was always so limited. I'll definitely be ordering from you again!" – Lottie – April 20, 2015
Tuesday, April 22nd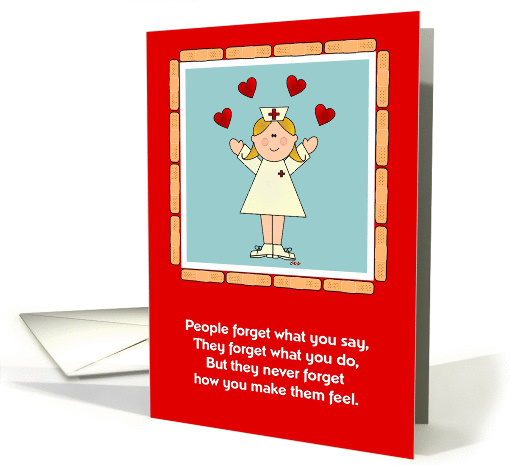 National Nurses Day occurs annually on May 6 and is a global event, observed in many countries. National Nurses Week takes place May 6-12 each year. Both holidays are celebrations of f nurses and nursing staff. No matter what type of nurse—RN, LPN, CNN, vocational, APN, NP, CNL, CNS, registered midwife, CRNA, doctor of nursing practice or nursing PhD—at this time, patients, patients' families and co-workers express their appreciation of the dedication and hard work put in by nursing professionals.
Here are 5 Things You May Not Know About Jurses, Nurses Day and National Nurses Week.
A special day for nurses was first requested of US President Dwight Eisenhower in 1953—no action was taken, but that didn't stop a celebration of Nurses Week in October 1954 to mark the  100th anniversary of Florence Nightingale's work during the Crimean War—it took until US President Richard Nixon signed a proclamation in 1974 that Nurses Day became officially recognized.
Although there is a chronic shortage of nurses everywhere in the world, the World Health Organization in 2010 ranked India at the top of the list of countries in desperate need of nursing professionals—2.4 million, in fact.
Considered America's first professionally trained nurse, Linda Ann Judson Richards graduated in 1873. Among other things, she developed a nursing uniform and for the first time in the history of medicine, kept written doctor's notes and her own organized to create patients' medical files. The first African-American nurse in America was Mary Eliza Mahoney, who graduated in 1879. Mahoney was a nursing pioneer who was also the first woman to register to vote in Boston in 1920 after the passing of the 19th Amendment.
The American Civil War changed the attitude of Americans toward nurses. Prior to that time, the term "nurse" mainly meant a woman who had received informal training or little training in medical care. Furthermore, women were supposed to stay at home caring for their children, the household and their husband. During the war, women volunteered to care for the sick and wounded. Their battlefield experience pointed out the need for more education. In 1869, the Women's Hospital of Philadelphia graduated its first class of trained nurses.
Some of the countries celebrating International Nurses Day on May 12 are India, the UK, New Zealand, Australia, Canada, Singapore and South Africa.
Greeting Card Universe honors the  nursing professionals who give so much care to their patients every day. Thank a nurse and show your appreciation with a special Nurses Day card from our collection of unique designs. In a hurry? Order on-line, get free in-store pick-up, usually in 1 hour, at most Target and Bartell Drug stores.
What Are Happy Customers Saying About Greeting Card Universe?
"I've found cards I couldn't find anywhere else so easily … a beautiful card for a gay wedding; cards for birthdays on or near Christmas; the ability to personalize a card for the birth of a child; many choices in many categories. The cards are as they were pictured. The cards were delivered w/in a few days. I have been completely satisfied and will continue to get cards from this site."- Ila – April 17, 2014
Friday, April 27th
To understand the who, what, and why of Nurses Day on May 6th in the U.S.  (Nurses Week is held annually May 6-12), we need to start with Florence Nightingale.
"It may seem a strange principle to enunciate
as the very first requirement in a hospital
that it should do the sick no harm."
—–Florence Nightingale , the "Lady with the Lamp"
Briefly, Englishwoman Florence Nightingale was a volunteer nurse with the British Army during the Crimean War in the 1850s. Nightingale campaigned on behalf of better care and conditions for the men, and better sanitation and nutrition, and established the foundation of professional nursing with her nursing school in London. National Nurses Week ends on her birthday.
To put you further in the know about the medical professionals who make a difference in so many lives each day, here are Five Questions and Answers About Nurses Day:
When Did the Official Observance of Nurses Day Begin? Dorothy Sutherland, an official with the U.S. Department of Health, Education, and Welfare, in 1953 proposed a "Nurses Day" celebration but it wasn't approved by President Eisenhower. However, in 1974, President Nixon proclaimed "National Nurses Week," and in 1982, Congress approved "National Recognition Day for Nurses" which became Nurses Day.
How Many Nurses Work in the United States? According to the U.S. Department of Labor, about 3.1 million licensed registered nurses are employed along with approximately 728,000 licensed practical nurses and licensed vocational nurses, and 1.5 million healthcare aides.
What Do People Do to Celebrate Nurses Day? Celebrations include parties and receptions, recognition ceremonies and proclamations, as well as giving gifts such as flowers or gift certificates. Greeting cards given by friends, family, and co-workers is a large part of the holiday.
What is the Florence Nightingale Pledge? A modified form of the Hippocratic Oath sworn by doctors, the Florence Nightingale Pledge was composed by Lystra Gretter and a Committee for the Farrand Training School for Nurses, Detroit, Michigan, in 1893, and named in honor of the founder of modern nursing.
Why Do We Celebrate Nurses Day? To foster awareness of the vitally important role nursing professionals play in the healthcare industry. Nurses bring care and comfort to millions of lives each year. Their contributions to quality healthcare, and their commitment and dedication to their profession, is worthy of recognition.
Recognizing the role played by RNs, LPNs, LVNs, CNAs, and healthcare aides and choosing a custom Nurses Day paper greeting card has never been easier. The variety of one-of-a-kind designs created by our international artists has one thing in common: they all say "thanks" to the people who help others every day of the year.
What Are People Saying About Greeting Card Universe?
"I feel a little silly sending a thank you testimonial each time I purchase cards, but I'm so impressed with the service each time I do so that I can't resist. Thank you for always having such a huge, unique and complete inventory. Thank you for shipping so promptly and packaging so well. Thank you for saving me the trouble of shopping anywhere else for greeting cards. Your company is #1 as far as I'm concerned!" Greg, Jamul, California, April 24, 2012