Monday, April 29th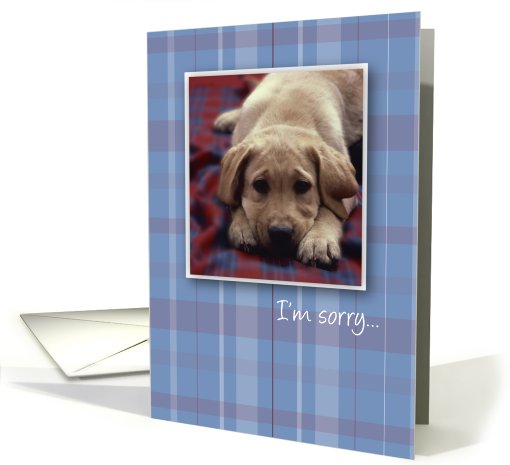 Even between close friends or family members, mistakes and misunderstandings happen.  People get angry and frustrated. Arguments and resentment can result.  Don't wait to maker amends. What's more important – the relationship or being right? When you need to say, "I'm sorry," there are a few simple steps to making a sincere apology.
Put aside defensiveness and pride.
Avoid the temptation of justifying yourself or explaining what you feel are mitigating circumstances.
Accept responsibility for your actions. Hold yourself accountable.
Acknowledge the hurt feelings. Don't let them fester unresolved.
Ask for forgiveness and ask what you can do to make amends.
Let it go.
Step up, own your mistake,  and let Greeting Card Universe help with unique Apology/I'm Sorry cards that give you a good starting place to speak from the heart. Need a last minute card? Order on-line, get free in-store pick up at most local Target stores, usually within 1 hour.
SPECIAL: Order 5+ cards, get 10% off and free shipping in the US! Use code 2013APR10 at checkout
What Are People Saying About Greeting Card Universe?
"You never fail to deliver the goods. Lovely cards and a fair price & great service. Will continue to shop with you as you don't disappoint."- Lorraine, April 25, 2013
Wednesday, February 15th
When a friend, co-worker or family member has experienced a death or is going through a tough time, saying the right words in person or on paper is a tricky ordeal. With so much of our communication based online or electronically, sympathy card etiquette is more important than ever. Before sending an e-card or jotting down a few thoughts in a generic card, consider a few tried-and-true guidelines for sympathy cards. Your friend or family member will appreciate your kindness, and you will feel good knowing that you helped them through a difficult time.
Types of Cards
While an electronic card or email message may reach your friend or family member more quickly, a proper sympathy card should be a physical card that they receive in the mail. This may seem old-fashioned, but a formal card implies that you thought it was worth the time to find a card, buy it, write a message, find a stamp and mail it, whereas an email or e-card takes only five minutes of effort. You'll also want to avoid cards that use any humor, even if the humor is hopeful or upbeat. Sympathy cards are not meant to entertain, but to make your friend or family member feel solace.
Whom to Address
If you knew the deceased well but did not know his family (which is often the case with co-workers or business associates) address the card to the nearest family member. Conversely, if your friend or family member lost someone whom you did not know personally, address the sympathy card to your friend, and not the deceased person's family member.
Writing Notes
Sympathy cards and envelopes should be written in your own handwriting, and not typed out. Avoid using any address stickers, especially for your own return address. A simple black or blue ink should be used on the card and envelope, and never any bright or garish ink colors. When you start the letter, identify yourself (if the person you are sending your condolences to is not a personal friend). In the intro, give a little background about how you knew the deceased. If you are a family relation, it's acceptable to describe how you were specifically related to the deceased. If you are a friend or co-worker, this can also be addressed.
This part of the sympathy card – the actual word of condolence – is the hardest to write, for obvious reasons. You'll want to avoid using any words like "death" deceased" or "died," and instead use the term "loss." Express your sadness in any way you feel, (I am a saddened by your loss, please accept my sympathy, my heart goes out to you) even if you feel like the choice of words are cliched. Finally, if you have any appropriate stories about the person, end the note with a few short sentences that convey the memory.
Writing sympathy cards takes only a few minutes of your day, but the effects will last a lifetime if you take the time to be considerate and appropriate to the situation. By taking time to consider the proper sympathy card etiquette, you are showing your friend or family member compassion at a time when they need it most.