Tuesday, May 26th

Regardless of whether your house is on a city power grid or you generate your own power through solar panels, wind, etc., if your house is wired for electricity, at some point you'll need the services of a certified/licensed electrician.
An electrician  goes through courses at a trade or vocational school, then graduates to further training and on the job apprenticeship under an experienced electrician before he or she can become certified or licensed according to their state's regulations. Electrical work should only be done by someone with the proper certification—work with electricity can be deadly and should never be attempted by amateurs.
If you have a friend or family member who is graduating from vocational school, Greeting Card Universe has unique, high voltage Congratulations on Becoming a Licensed/Certified Electrician cards made especially by our design community. Just order on-line, add your personal message and – don't be shock – we'll put your card in the mail the next business day. Or get free in-store pick-up, usually in 1 hour, at most Target and Bartell Drug Stores.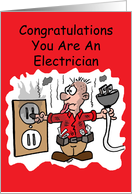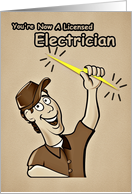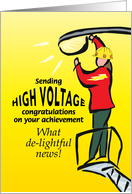 What Are Happy Shoppers Saying About Greeting Card Universe?
"Just finished addressing the personalized Graduation cards I ordered from Greeting Card Universe, one of my many orders. The cards were perfect and I know the graduates are going to love them. I have ordered cards several times and have really been very well satisfied with the cards. Excellent choices, awesome quality and speedy delivery. Will order again, and again and again!"– Kay – May 21, 2015