Thursday, October 27th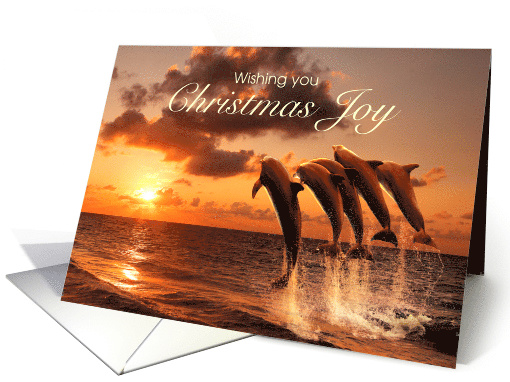 What was your inspiration for your winning card? Please walk us through the process of how this card went from an idea to a greeting card.
It was a nice surprise to have my entry selected for First Place in the Design Challenge. Thank you! My idea for the card came to me when the Big Stock image of leaping dolphins brought back memories of a beautiful sight I had seen while on a Polynesian cruise.
We were leaving Rangiroa by way of Tiputa Pass, a gap in the atoll which is famous for its raging outgoing current. As the islanders on shore waved goodbye and blew on huge shell trumpets, over a dozen dolphins raced toward our ship, then turned around to ride the surf created by the bow wave. I hung halfway over the railing to catch a glimpse of the dolphins and was astounded by their acrobatics. They were leaping into the air, spinning and playing in the surf with obvious joy. When I saw the stock image of the dolphins, I knew I had to use it for a Christmas card and add text that would allude to the joy one might feel at Christmas time.

What sparked your interest in art? Did you start as a young child?
My interest in art was first sparked as a child of three or four as I sat in front of the TV, watching Popeye cartoons on a local Los Angeles channel hosted by artist Tom Hatten. Tom would draw an abstract figure called a squiggle; on the sketch pads of his young studio guests who would then incorporate that squiggle into a drawing. I did my best to copy the original shape onto my own art paper and then would turn it this way and that, looking for some recognizable form within the abstract lines while asking myself, "What do I see here . . . a dragon . . . a face?"

I not only learned how to accurately copy lines and forms, but this helped me develop creativity and an awareness of negative space. I also acquired an incurable case of Pareidolia from which I hope to never recover.

In Kindergarten, I would spend every recess at a big wooden easel, painting. I loved painting so much that for Christmas, when I was five, my dad and brother built me my own easel. I was given all the necessary supplies to make large watercolor paintings which—believe it or not—are still in existence, thanks to my mom who saved each and every one, thinking I'd be the next Picasso. Ha! I have no idea what to do with those childish paintings, but after hanging onto them for the past 64 years, I'm reluctant to part with them now.

Please list any awards or contests you've won outside of GCU.
As an adult, I have not entered any art contests or competitions. I really can't say why . . .
I just haven't given much thought to it. But as a kid obsessed with art, I was determined to enter and win every coloring contest I could get my hands on. I began with two entries I submitted for a national competition, sponsored by Post Cereals and Mattel Toys. For the contest, five different cartoon characters were printed on cereal boxes with no context of the setting or what the character was doing. The challenge was to draw the details surrounding the cartoon character and tell a story with imaginative artwork. Using a Crowquill pen, India ink, and watercolor pencils, I created two entries, each of which had the potential to win a nice selection of toys.

I will never forget the day my mom picked me up from school, brandishing not one—but two registered letters. One letter said that I had won First Place for one of my entries; the other letter announced that of all five categories, my other submission was awarded Grand Prize as the best entry over all. As the National winner, I was given a bicycle and nearly every toy Mattel made. After that confidence-building experience, I kept my eyes open for art contests, both national and local. What followed was a string of first-place wins and by the time I ended my career as the coloring-contest kid, I had won another bike (a gorgeous blue Stingray) and a boat-load of other fun prizes.

As I entered high school, I participated in various art exhibitions, poster contests and competitions, winning several cash prizes. Upon graduation in 1971, I was selected as the recipient of the Bank of America Award in Art.

Do you have formal training or are you self-taught?
Though mostly self-taught, I attended a community college with an extensive art department where I took a smorgasbord of classes: art history, oil painting, life-drawing, sculpture, jewelry design, commercial art, watercolor, even glassblowing. Concurrent with my art instruction, I took an equal amount of theater classes. When I transferred to the University of California Irvine in order to complete my degree, I changed my major from Studio Art to Theater Arts. In 1976 I graduated from UCI with a Bachelor's degree in Acting.

Have you ever/do you currently have a job other than as an artist?
As soon as I got my acting degree, I joined Lamb's Players, a Christian drama ministry, and traveled with their Street Theater troupe for the next two years, performing comedy and drama at Renaissance festivals, churches, colleges and other venues throughout the US and into parts of Canada.

After my adventures with Lamb's Players, I did some freelance graphic-arts work, designing logos and ads for magazines. That was before computers and digital art when all my graphic artwork was freehand and the text had to be done with press-on lettering. I was often commissioned to do pastel portraits as well. For a while I worked at a sign company, creating vinyl signs, but the work was tedious and mind-numbing. The business was in a large unheated building that was so cold that even in SouthernCalifornia it numbed the fingers as well; so I sought a job as a waitress and thoroughly
enjoyed the interaction with the public.

During this time I utilized my theater arts degree by directing church musicals and acting in community theater. (Fun Fact: I played the "Day By Day" girl in a local production of Godspell and had the dubious honor of playing the Wicked Witch of the West in The Wizard of Oz.)

My best friend Oscar and I married in 1980 and we had two kids. (We're now the grandparents of six grandkids.) After quitting my waitress job, I wrote and performed a one-woman dramatic presentation called Through a Mother's Eyes in which I played the role of Mary, the mother of Jesus. Using my knowledge of Biblical history and scripture, along with my drama skills (and some maternal humor,) I told the story of Jesus' childhood and ministry from the perspective of a very human Jewish mother. For the next 19 years, I performed Through a Mother's Eyes at churches, retreats, women's prisons and other service organizations.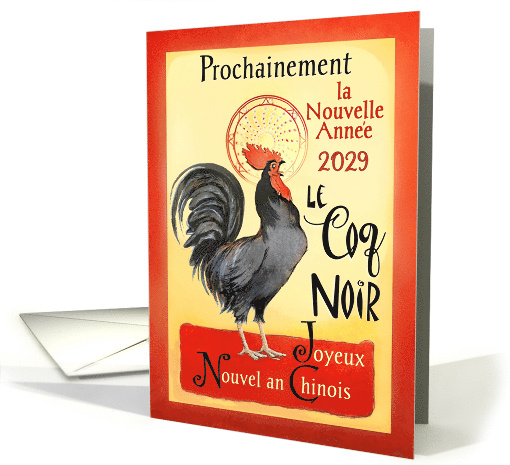 Please list the URLs of your 3 favorite cards in your storefront and why they are your favorites.
This was my favorite card for the Chinese New Year of the Rooster in 2017 because of its uniqueness. My design is a nod to the famous French poster "Le Chat Noir" (The Black Cat) by Theophile Steinlen. I found a drawing of a rooster's head that Steinlen had used on a lesser-known cabaret poster and I completed the bottom half of the rooster with my own artwork

My Christmas card featuring inquisitive donkeys and ponies gathered around the Bethlehem manger was inspired by a photo I took of a friend's baby who was wrapped in a crocheted blanket with only his toes and hands visible. I thought it was a cute photo and wracked my brain to figure out how to use the baby in a Christmas card. This is what I came up with.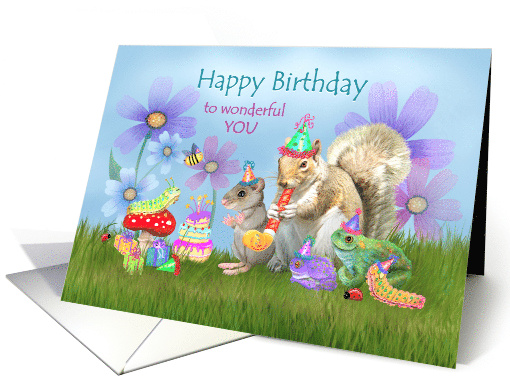 This whimsical birthday card was one of the first designs I made with an iPad. Prior to 2022, all of my digital art was drawn with a mouse—a painstaking method and very time-consuming. For this design, I created each of the little critters and the flowers as vectors and also incorporated a photo of "Mr. Snoofles" our neighborhood squirrel who went to his reward years ago (but has found immortality in several of my cards that feature him.

Is your work done by hand and then scanned or do you work entirely on the
computer?
I use both methods. I often blend my own digital artwork with my original photos as well as free-commercial-use pictures available online. Lately, I have been scanning or photographing my decades-old paintings and drawings from my college days, and I have been giving them new life with added layers of new artwork and text.

What GCU artist(s) do you admire?
There are so many wonderful artists who contribute to GCU. I admire them all, but I particularly enjoy the art of Betsy Bush (Dragonfire Graphics), Michelle Lanoue, and Cathie Richardson (Country Garden Cards). I especially love Asian art and so the beautifully detailed Chinese and Vietnamese New Year cards by Cisillia Tay are some of my favorites. Cisilla's work never fails to fill me with wonder, admiration, and a teeny bit of envy.

Doreen Erhardt's artwork is fantastic, too. Doreen was a great help to me when I first joined GCU in 2011. I had just learned how to use a computer and I needed tons of help to create a card worthy of GCU approval. I appreciated that Doreen always took the time to answer my questions and offer valuable advice.

What would we be surprised to learn about you?
I spend a ridiculous amount of time caring for PidgieWidget, an ornery, bad-tempered rock pigeon that I rescued as a chick over a year ago. "Widgie" has crippled feet and cannot be released into the wild so she lives in an open cage in my living room, scattering feathers everywhere. She is occasionally loveable, and enjoys traveling in the car, hunkered down on my shoulder and watching the scenery as it passes by. My pigeon is featured on only one of my cards so far, but I have plans to use Widgie's image for some future designs if I can get her to cooperate.