Wednesday, May 11th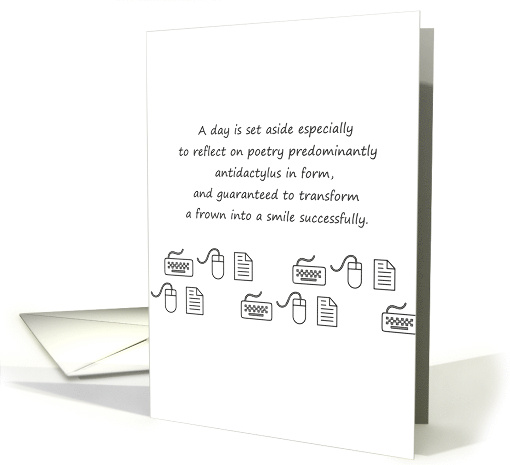 National Limerick Day is observed on May 12, the birthday of English author and poet
Edward Lear, who popularized limericks in his book "Book of Nonsense", published in 1846. Lear's book https://onlinebooks.library.upenn.edu/webbin/gutbook/lookup?num=982 is available as a free download from Project Gutenberg.
A limerick is a 5-line poem with a rhyming pattern of AABBA, with the first, second, and fifth lines having 7-9 syllables, and the third and fourth lines having 5-7.
Limericks were originally written as nursery rhymes and then moved into the pubs and became a more adult, bawdy form of entertainment. Whether intended for children or adults, though, all limericks are nonsense and humorous.
Of unknown origins is this limerick:
The limerick packs laughs anatomical
Into space that is quite economical.
But the good ones I've seen
So seldom are clean
And the clean ones so seldom are comical.
We asked Greeting Card Universe artist Pat Rapple to try her hand at writing a limerick. Her offering illustrates Greeting Card Universe's commitment to having "any card imaginable".
There's always a reason, it's true,
For sending one card, or a few!
Silly "National Days,"
Or a card from the heart.
We even can mail it for you!
So, on May 12, celebrate National Limerick Day by seeing who among your family and friends can write the silliest limerick!
Greeting Card Universe National Limerick Day cards