Thursday, August 27th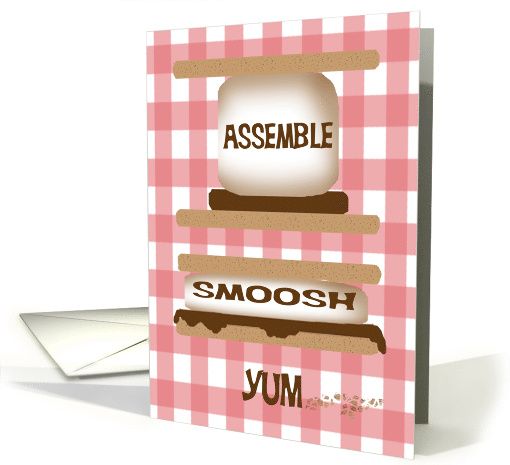 In 1978, newspapers reported Bigfoot sightings in Hartford County, Maryland according to Robert Chance, an environmental education teacher at a local high school who claimed to have circumstantial evidence and had actually met the crypto-creature. Chance believes Bigfoot is intelligent, fears humans and walks around the Appalachian mountain region, hidden in the thick forests. He faces a great deal of criticism, but has faith that one day, his belief in Bigfoot will be vindicated.
If you decide to have a camping party in the woods, you don't need to worry about Bigfoot crashing the fun when you send unique Kids Birthday Party/Camping Out Invitations. Just order on-line, add the date and times and we'll put your invites in the mail the next business day.
What Are Happy Customers Saying About Greeting Card Universe?

"I love, love, love the GreetingCardUniverse cards! These cards can be personalized with names, date, and specific messages to make card giving a personal act. I have been pleased with every purchase, and when I needed to contact customer service for one order, they couldn't have been nicer! Recommend this site to anyone and everyone!!"

– Nancy – August 23, 2015
Friday, February 10th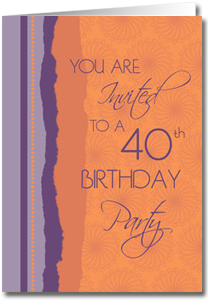 A 40th birthday is a landmark event, but for some, turning 40 may cause more commiseration than celebration. If you're planning a 40th birthday party for a friend or family member, you'll want to make sure it's a night to remember. There are plenty of 40th birthday party ideas out there if you know where to look, but here are few to get you started.
Decade You Were Born Party
Chances are, your soon-to-be-40-year old friend was born in the 70s, so a fun, creative 40's birthday theme is a "decade you were born" party, which incorporates the styles, fads and fashions of the 70s (or any decade the birthday boy or girl was born in). A disco-themed party is a great idea for people born in the 1970s, especially if you find photos from childhood of them in 70s attire. Disco party supplies, music and second-hand clothing are cheap and easy to find, and you can ask the guests to come in disco or 70's attire. When sending out the invitations, include info from the day the guest of honor was born to in the invitation. For example, "On May 25, 1972, the first fly-by-wire airplane took flight, the movie "Ciao! Manhattan" was released and Harry Wilson was born." You can easily find date-specific information online.
Raise Money for Retirement Party
With the growing cost of retirement, a "raise money for retirement" party is a fun way to ring in a friend or family member's 40th birthday. The "charity" is your friend, and any number of events can be staged at the party to bring in extra retirement dough. For example, you can organize a poker tournament (complete with poker themed party supplies), and all proceeds will go to the lucky birthday boy (or girl) in lieu of a gift. If you're throwing a silent auction, ask guests to bring in items to donate (including services) in lieu of a gift. Your birthday guest will come away happy, and he can spend the money any way he chooses.
Finding Invitations
Like any landmark birthday, the 40th birthday is an event with plenty of pre-made 40th birthday cards and invitations available online. The old "over the hill" cards have been replaced with do-it-yourself photo cards, formal personalized invitation sets and, of course, humorous celebrity and joke invitation cards. To get started, check out websites that offer specific 40th birthday invitations, and then narrow down your search by the type of card you want to send. There are even a number of invitation software packages that are available for free download, and you can design the invitation around the theme of your party. Once the invitation is created, print each card out using the invitation paper, and you are all set to go.
If the 40th party is being planned as a surprise, you'll want to float your 40th birthday party ideas with a friends or family member of the birthday boy (or girl), just to make sure that they are on board. Otherwise, go for the surprise party theme, and just make sure not to surprise them too much!