Monday, May 23rd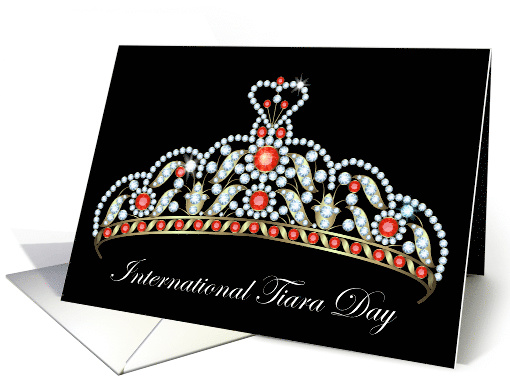 Every woman deserves a tiara. It reminds those around us that we are special, empowered, and intelligent, and we are to be treated accordingly. Bowing to us isn't always necessary, but a "Yes, of course, your Majesty" occasionally would be nice!
International Tiara Day is celebrated May 24, Queen Victoria's birthday. You can celebrate International Tiara Day by, certainly, wearing a tiara, and maybe having a tea for friends and family. A tea dress isn't necessary, but it would be fun to dress up a little bit. And you and your friends will, of course, want to wear your tiaras to your tea.
Tea is served between lunch and dinner, which in Victorian days was traditionally served at 9 PM. In 1840, Anna Marie Stanhope, one of Queen Victoria's ladies in waiting, was too hungry to wait for dinner. She had a light meal, consisting of  cakes, bread and butter, and tea, delivered to her rooms. She began inviting her friends to these teas, and once the Queen heard of them, she took up the habit. Today, the evening meal is often referred to as "tea".
What food is appropriate to serve for tea? Queen Victoria loved chocolate, so a chocolate cake would be appropriate. In addition, scones, savory sandwiches, and pastries could be served. And, of course, tea, with a choice of milk (never cream), or lemon.
Whether you celebrate International Tiara Day by having tea or not, be sure to let your inner princess out for the day!
International Tiara Day Facebook page
Greeting Card Universe International Tiara Day cards
Greeting Card Universe International Tiara Day Pinterest board