Thursday, January 14th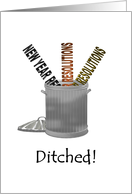 Many of us start the new year with good intentions of changing bad habits or adding good ones. From stopping smoking, starting a new diet or exercise program, being more organized, the first blush of the new year brings resolutions to improve our lives.
And then …
Two weeks in, a piece or two of chocolate cake has somehow snuck onto your plate; you've hit the snooze button more than once instead of getting up to go walking; and you're following smokers around the street, trying to inhale their second-hand smoke.
The most common date to give up on your resolutions is January 17. To mark that date, there is Ditch New Year's Resolution Day. It's a day to surrender and join the estimated 1 in 3 people who give up on their New Year's resolutions.
But all is not lost. If you are determined to make your resolutions stick, here are some helpful hints.
Tips for Keeping your New Year's Resolutions
Make realistic resolutions. It's unlikely that you will be successful at never having chocolate again. It's better to set a goal of having only a small amount every so often.
Write down your goals. Look at them when you feel discouraged.
Keep a journal to write encouraging notes to yourself.
Try to make only one change at a time.
One or two–or five–slip ups shouldn't discourage you. Learn from the triggers that made you slip-up (maybe coffee makes you want a cigarette) and avoid them.
Find a friend or family member who is also trying to form better habits and you can both serve as encouragement buddies.
Whatever you do, know that even small changes can make a difference. Keep your resolutions simple — and don't give up! A failure today can be turned around tomorrow. You could consider Jan 17 "Stumble" vs a "Ditch Day". Good luck!
Ditch New Year's Resolution Day Greeting Cards
Be sure to follow Greeting Card Universe's Ditch New Year's Resolution Pinterest Board for related material and tips and hints on keeping your resolutions.