Wednesday, March 4th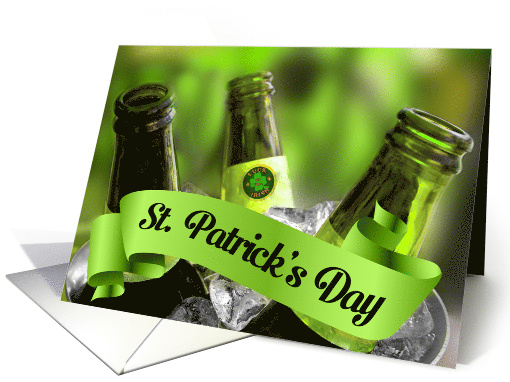 St. Patrick's Day or St. Paddy's Day—never Patty's since the name's a diminutive of Patricia—is both a religious and secular holiday falling on March 17th annually. The celebration is observed by devout Catholics as the holy day of Patrick, the patron saint of Ireland, and by non-Catholics as a fun Irish-themed holiday filled with parades, Irish puns, good friends and good food.
Certain foods are traditionally served during this time and we don't just mean green dyed beer. Here are some of the offerings you'll find in homes and pubs and gatherings on St. Patrick's Day.
Irish Soda Bread: In 1816, the Gentleman's Magazine first published information and a recipe for a new kind of bread made cheaply with soft wheat, which was considered unsuitable for proper yeast-based bread. This "soda cake" became popular in Ireland during the Potato Famine (1845-1852).
Corned Beef and Cabbage: In Ireland, pork and potatoes were a staple of the traditional diet, but Irish immigrants to New York City found it easier to eat their meals from street vendors, most of whom were Jewish and offered corned beef, a thrifty cut. Cabbage was also cheaper than potatoes, so Irish families began cooking corned beer and cabbage in a single pot, making a simple but tasty meal.
Irish Stew with Guiness: From its beginnings in Dublin at the St. James Brewery in 1759, Guiness Stout was revered for its rich, creamy, deep flavor and the beer became a flavorsome addition to the traditional Irish strew. In the 1920s, an advertising agency created the slogan "Guiness is Good for You" based on pseudo research and the idea of a healthy beer proved so irresistible, even pregnant women were advised by their doctors to regularly drink a pint.
Greeting Card Universe celebrates this happy holiday with daily specials (and promises no pinches for you if you're not wearing green!). Check out our unique St. Patrick's Day cards. Your friends and family will find smiles at the end of the rainbow.
What Are Happy Shoppers Saying About Greeting Card Universe?
"My mother has Alzheimer's and phone calls are difficult for her. I send a card every week and she loves getting the cards. They are beautiful designs and of the highest quality. I have been using greeting card universe for over a year and haven't had to buy any card twice. Price and delivery are exceptional! Thank you. Best regards, Sharon" – Sharon Garcia – February 28, 2015
Friday, March 9th
St. Patrick's Day, celebrated annually on March 17, is a holiday rich in symbols, many with Irish and Celtic themes. Ever wondered about those particular symbols, their origins, and how they were chosen?  Let's find out with …
5 St. Patrick's Day Symbols and What They Mean
1. The Shamrock
The ancient Celts revered the shamrock as a sacred symbol of spring.  Fast forward a few centuries to the 18th century, when Ireland was ruled by the English. At this time, with speaking the Irish language and the practice of Catholicism forbidden by law, Irish nationalism was beginning to make itself known. The shamrock was adopted by proud Irish nationalists as a symbol of their heritage.
2. The Leprechaun
The leprechaun of Celtic folklore – the "lobaircin" or small-bodied fellows who were cranky and liked to play tricks – did not become associated with St. Patrick's Day until after 1959. Why did it take so long? St. Patrick's Day was considered a religious holiday until fairly recently. But in 1959, Walt Disney Productions released the film Darby O'Gill and the Little People, which introduced many Americans to the notion of a good humored, friendly, luck-giving little fellow who subsequently became part of St. Patrick's Day lore in the U.S.
3. The Color Green
Again, we go back to the turbulent 18th century. The color originally associated with St. Patrick was blue, but when Irish patriots adopted the shamrock as a symbol, the color green came along with it.  Green ribbons began to be worn to celebrate St. Patrick's Day as early as the 17th century. In fact, "The Wearing of the Green" – taken from a song with the same title – came to mean wearing a shamrock on one's clothing in support of Irish nationalism. During the United Irish Rebellion of 1798, Irish soldiers wore green uniforms to draw attention to their cause.
4. Corned Beef and Cabbage
Today a traditional St. Patrick's Day meal served by Irish-American families and others, in fact the pairing corned beef and cabbage is not native cuisine to Ireland. The practice came about in the 19th century, when impoverished Irish immigrants living in New York City's Lower East Side could not afford Irish bacon for the dish, and substituted cheaper corned beef (supplied by neighboring kosher butchers) instead.
5. St. Patrick's Day Parades
Now a tradition in many American cities, when and why did St. Patrick's Day come to be celebrated with parades? Reliable historical evidence is scarce before the 18th century. However, we do know that officers from primarily Irish infantry regiments of the British Army stationed in New York City – the 16th and 47th Regiment of Foot – formed The Society of the Friendly Brothers of St. Patrick. On March 17, 1762, soldiers from these regiments, joined by Irish immigrant civilians, marched in a parade and celebrated with music.
As for the green beer? We'll leave that one up to you. 🙂
Celebrate with custom St. Patrick's Day cards from Greeting Card Universe. Selecting one of our unique greeting cards is much easier than catching a leprechaun!




What Are People Saying About Greeting Card Universe?
"I looked everywhere for a card to give my daughter and son-in-law on the birth of my granddaughter. I found one on your site and was able to personalize it as well. The card arrived very quickly and the quality is excellent. I would highly recommend your cards." Kathleen, March 7, 2012
Friday, March 2nd
Observed for more than 1,000 years as the religious feast day of St. Patrick, the patron saint of Ireland, St. Patrick's Day (March 17th) has become a popular, secular holiday in the United States and around the world, celebrated with parades, parties, and of course, the wearin' o' the green!
Saint Patrick was a gentleman, who through strategy and stealth
Drove all the snakes from Ireland, here's a drink to his health!
But not too many drinks, lest we lose ourselves and then
Forget the good Saint Patrick, and see them snakes again!
—Anonymous
"LUCKY" SEVEN THINGS TO KNOW ABOUT ST. PATRICK'S DAY
The first recorded parade honoring St. Patrick's Day happened on March 17, 1762 when a group of Irish soldiers who served in the British Army were stationed in the American colonies. Homesick, they held a parade on lower Broadway in New York City, and sang Irish songs and played bagpipes.
Since 1962, the city of Chicago dyes the Chicago River green on St. Patrick's Day each year. The practice began when pollution-control workers, using dyes to trace illegal sewer discharges, chose a green dye because of the holiday.
In 1848, several Irish fraternal and beneficial societies in New York City banded together to organize a single large St. Patrick's Day parade officially sponsored by the Ancient Order of Hibernians. Continuing to this day,  this St. Patrick's Day parade has become the largest parade in the United States.
St. Patrick's Day became a national holiday in Ireland in 1903, but did not receive much official backing until 1995, when the Irish government began promoting the holiday as a way to boost tourism. Today, over a million people take part in Dublin's St. Patrick's Day Festival.
Forget green beer – more than ten million glasses of Guinness are sold on St. Patrick's Day around the world.
Why do we celebrate on March 17th? Because that's the date of St. Patrick's death in 461 A.D.
34 million Americans have Irish ancestry – 9x the actual population of Ireland itself
Greeting Card Universe has many custom St. Patrick's Day greeting cards to wish luck to your friends and family in finding the pot of gold at the end of the rainbow!
SPECIAL OFFER – In-store pickup of your greeting cards at select Target stores! See our website for details.
What Are People Saying About Greeting Card Universe?
"First time customer, these cards are wonderful. Excellent quality card stock, beautiful artwork, great communication from the site and quick shipping. I would definitely purchase these cards again." Margaret, February 29, 2012