Friday, December 4th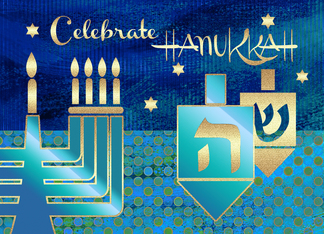 Hanukkah, also known as the Festival of Lights, lasts for 8 days and is a celebration of light over dark. This year, Hanukkah starts December 6 and ends December 14. The symbols of Hanukkah include menorahs, dreidels, and foil-covered chocolate coins.
Hanukkah is commemorated by lighting the candles of a menorah, a 9-armed candelabra. Each night an additional candle is lit. The extra candle, which is used to light the other candles, is called a shamash and is situated in a distinct location on the menorah, either above or below the other candles. After blessings are recited, the candles burn for at least half an hour after darkness falls
Dishes traditionally associated with Hanukkah include latkes, braised brisket, noodle kugel and chocolate babka. The custom of eating food cooked in oil stems from the miracle of a small amount of oil keeping the flame in the temple lit for eight days.
It's traditional to invite family and friends to Hanukkah dinner to enjoy the fellowship, good food, and fun games. Please see our Hanukkah Festival of Lights Pinterest Board  for recipe, home decor, craft, DIY and greeting card ideas.
In each of the years of his presidency, President Obama and family have had a special menorah take center stage. Some special menorahs included a 90-year-old menorah in 2012 that survived Hurricane Sandy and in 2013 the menorah was from the Jewish Museum in Prague. (More information available at Help Us Find Menorahs for the White House Hanukkah Receptions
We at Greeting Card Universe wish you and your family Hanukkah Sameach!