Wednesday, January 18th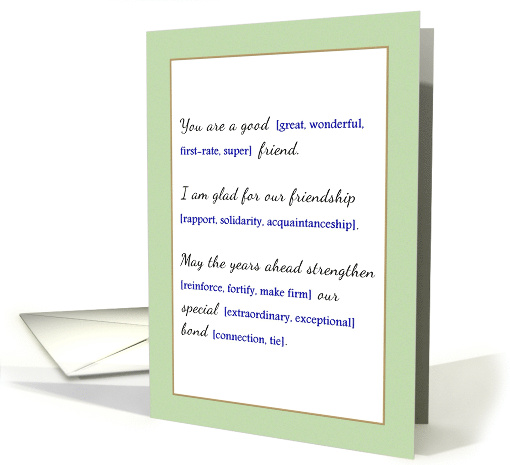 Thesaurus Day is a celebration of Peter Mark Roget's January 18 birthday. Roget, a doctor, spent his retirement writing Roget's Thesaurus of English Words and Phrases.
A thesaurus is a book of English words and phrases with similar meaning. "Thesaurus" is Latin for "treasure". Roget's original (first/initial) thesaurus contained 15,000 words in six categories: quantity, relation, number, existence, and time. Currently, the book (volume/work/writing) has 230,000 words. Since its first publication, Roget's Thesaurus has never been out of print.
A thesaurus is an important (necessary/essential) tool (means/device) for students (pupil/scholar), but should be used cautiously (carefully, guardedly). As Professor Simeon Potter, a Fellow of the Royal Society of Literature and an Honorary Fellow of the Institute of Linguistics has stated: "[A thesaurus is] a good reminder of words momentarily forgotten, but a bad guide to words previously unknown." This warning (admonition/caution) is given because (as a result of/owing to) words in a thesaurus are without context (frame of reference/connection). It's up to the user to decide (determine/conclude) whether a word works in the context (frame of reference/situation) of the information (data/material) they're trying (endeavoring/effort) to present.
Brighten (enliven/lighten) the day of your favorite English teacher, editor, logophile, or writer by recognizing (observing/noting) Thesaurus Day.