Wednesday, August 27th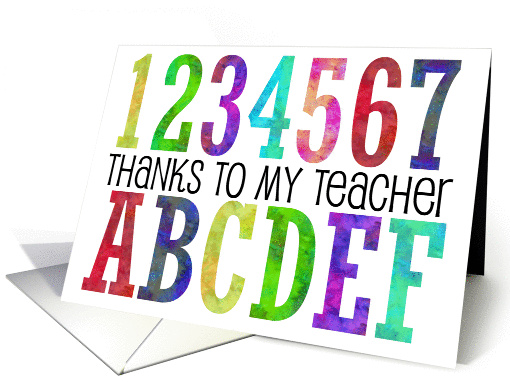 Teachers work long hours preparing lessons for their students, grading tests and papers, taking care of necessary administrative tasks, and all the other work that goes above and beyond their job description, often including using their own money to purchase classroom supplies. During Teacher Appreciation Week (taking place annually on the first full week in May) we express our thanks to the awesome men and women who teach and care for our childen. We also send Teacher Thank You cards to show our gratitude. But what if you'd like to send a teacher a litlte somethign more in addition to a card?
Wonderful gifts for teachers include:
School supplies (grade level appropriate) such as glue, paper clips, binder clips, pencils, child friendly paints, etc. You can create a cool School Supply Cake as an artful presentation or just a tote bag of goodies
Age appropriate books for children to plump up the classroom library or toys/games with an educational bent that are fun to play.
A reusable lunch bag filled with rubber grading stamps, ink pads, and stickers for teachers to give out to students or a gift card to a book store or office supply store.
Homemade classroom decorations personalized to the teacher and made with love.
And when you want to celebrate a special event like a Teacher's Birthday with a gift, include a unique card from Greeting Card Universe!  Choose one of our special selection designed for the occasion, order on-line, personalize with your message, and we'll mail your card the next business day. Or get free in-store pick-up, usually in 1 hour, at many Target and Bartell Drug Stores across the USA.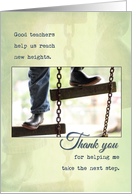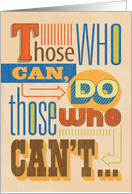 What Are Happy Customers Saying About Greeting Card Universe?
"The card I ordered was just beautiful. I put a picture of my Aunt and Uncle on their wedding day and one of them now. You just don't find Happy 65th Wedding Anniversary cards. They are going to love it but before their anniversay I am going to show all my friends!!! Thank you so much!!!" – Connie – August 22, 2014
Monday, May 26th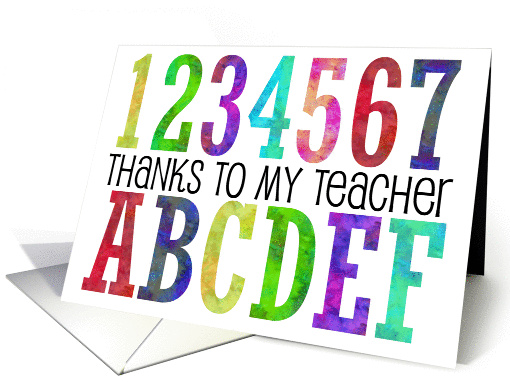 Considering everything teachers do on a daily basis to educate, nurture and inspire their students, there's is no better time than now to express gratitude and thankfulness.  Teachers are role models who change lives for the better and help students achieve their full potential.
Everything we are, we owe in some part to our teachers.
Give something back to the person who gave so much to you or your child. Don't wait for a special holiday – every day is a good time to send a teacher your appreciation. Greeting Card Universe offers one of a kind Teacher Thank You cards to send to an educator who has touched lives in positive ways. From Art teachers to Coaches to Math, Music, Sunday School and more, you'll find exactly the right design and message written from the heart.
What Are Happy Customers Saying About Greeting Card Universe?
"This is my first experience with Greeting Card Universe and it has been a pleasant one. I have searched for a long time for a card to the parents of a bride to be and couldn't locate one until…….finding G.C.U. online. I have now returned as a customer for all my necessary greeting card orders. Thank you for providing such a wonderful service and extensive line of greeting cards, invitations and announcements."- Joyce – Harwich, Massachetts – May 23, 2014
Monday, June 24th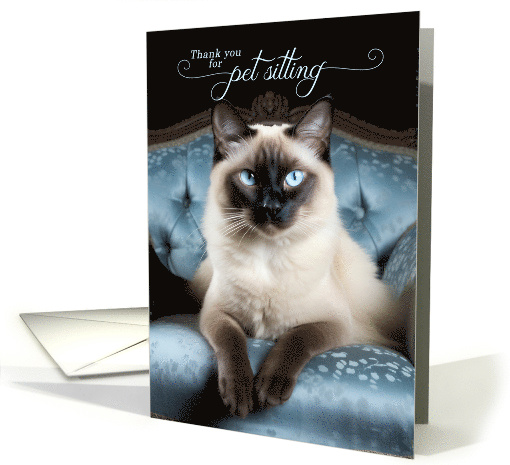 Lots of folks take time off in summer to travel—just head out to a destination to enjoy relaxing, rewinding, and recharging a few days to a few weeks. But what about pets? Some owners place dogs or cats in a kennel, but others opt to give their pets a "stay-cation" at home by hiring a pet sitter.
What should you look for in a pet sitter?
References: Has the pet sitter been recommended to you by a trusted friend, family  member, neighbor, veterinarian, or co-worker? If their references consist primarily of people you don't know, be sure to call former clients on the list and ask about the potential sitter's prior experience and conduct.
Qualifications: Does the sitter have the necessary experience and training to take good care of your pet? A professional pet sitter should have:
An association with a vet providing after-hours medical care if necessary
Proof of commercial liability insurance & bonded against theft
Written contract spelling out all services, responsibilities, and costs
An agreed-upon plan in place in case of emergency
An appointment to come to your home and meet your pet before you leave
Specialized training for the more exotic pets like snakes, lizards, etc.
Professionalism: Does the sitter take notes about your pet's likes, dislikes, schedule, medication, medical conditions? What if they're unable to fulfill their responsibilities while you're still away—do they have a back-up plan? Do they offer other services like in-home grooming, playtime, walking the dog? If requested, will they contact you regularly and give updates on your pet's condition?
To show a pet sitter your appreciation for helping provide you with a worry-free vacation, Greeting Card Universe offers unique Thank You Pet Sitter cards, including customizable Photo Cards.
What Are People Saying About Greeting Card Universe?
"This is ABSOLUTELY the BEST place to purchase any type of card that you want/need! I have told bunches of friends/family to use! Thank you every much for everything! I will be ordering in the future just as I have been! Denise Tennessee" – Denise, June 18, 2013