Tuesday, June 7th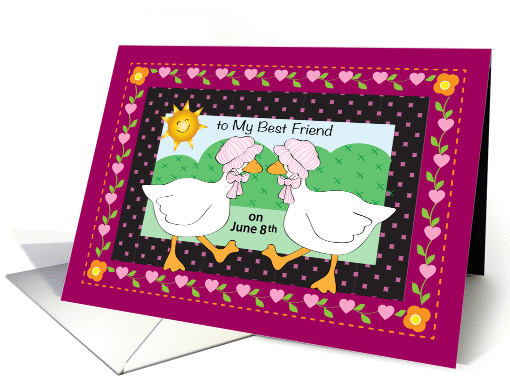 A best friend laughs with you (and at you, when you deserve it), shares your moments of sorrow and pain, brings you chocolate when you need it, and doesn't let you forget how wonderful you are. A best friend can help you handle anxiety, makes you more optimistic, and gives you emotional and physical strength.
If you need to talk to your best friend right away, she'll drop everything to be with you. If you need someone to serve as a sounding board, your best friend will give you feedback. And, of course, if you need someone to give you unconditional love and support, your best friend is your go-to person.  It doesn't matter whether you've known your best friend since childhood or only for few years, one thing is clear: A best friend is essential.
On June 8, we celebrate our best friends, the person who brings balance and sanity to our life. How can we best show our appreciation to our best friend?
Spend some time together at lunch or other activity that allows you to catch up.
Send a card, with your thoughtful words of appreciation.
Give them a small but considerate gift, like a photo of the two of you.
A gift that shows you know them. Is your friend always running out of power on their cell phone? Then they need a portable phone charger. Are they stressed? A day at the spa for the two of you would relax them. Are they a bit bored? Pay for an adult education class for the both of us and learn to paint, use the computer, work with stain glass, or any of the other many offerings.
Greeting Card Universe National Best Friend Day cards
Greeting Card Universe Friends & Friendship Pinterest board