Keep in Touch!
Sign up for our special offers and receive a code via email for 20% off!
Valentine's Day

-

February 14, 2014
| | | | |
| --- | --- | --- | --- |
| | Shop for | | |
Saint Valentine's Day or Valentine's Day falls on February 14. It is the traditional day on which lovers express their love for each other by sending Valentine's cards, often anonymously.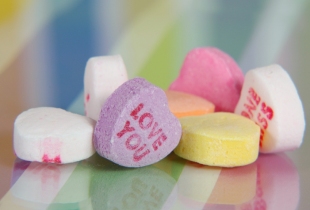 The holiday is named after two men, both Christian martyrs named Saint Valentine. The day became associated with romantic love in the High Middle Ages, when the tradition of courtly love flourished.

The day is now most closely associated with the mutual exchange of love notes in the form of "valentines". Modern Valentine symbols include the heart-shaped outline and the figure of the winged Cupid. Since the 19th century, handwritten notes have largely given way to mass-produced greeting cards. The Greeting Card Association estimates that approximately one billion valentines are sent each year worldwide, making the day the second largest card-sending holiday of the year behind Christmas. The association estimates that women purchase approximately 85 percent of all valentines.

In the United States, the marketing of Valentine's Day has tagged it as a "Hallmark holiday".


History
---

St. Valentine the many
February 14 was traditionally dedicated to two ancient martyrs named Valentine. They are listed in early martyrologies under the date of February 14, which is likely the date of their deaths. There is a third St. Valentine from Africa who was also martyred on February 14, but he did not get a saint's day. Very little historically accurate information exists on any of these Valentines. The Valentines honored on February 14 are:


Valentine of Rome (''Valentinus presb. m. Romae''): a priest in Rome who suffered martyrdom about AD 269 and was buried on the Via Flaminia. His relics are at the Church of Saint Praxed in Rome, and at Whitefriar Street Carmelite Church in Dublin, Ireland. According to a biography of Saint Valentine by Robert Sabuda, the priest was also a doctor who would treat patients even if they could not pay him. It is said his miracle was curing a difficult case of blindness in a young girl.


Valentine of Terni (''Valentinus ep. Interamnensis m. Romae''): He became bishop of Interamna (modern Terni) about AD 197 and is said to have been killed during the persecution of Emperor Aurelian. He is also buried on the Via Flaminia, but in a different location than Valentine of Rome. His relics are at the Basilica of Saint Valentine in Terni (''Basilica di San Valentino'').

Some sources say the Valentine linked to romance is Valentine of Rome, others say Valentine of Terni. The Bollandists have concluded that the two were originally the same person.

The name Valentine comes from the Latin word ''valor'', meaning worthy.
The Roman Catholic Calendar of Saints, known as the ''Roman Martyrology'', was revised in 1969 so that all of the Valentine's days were officially dropped. The liturgical Feast of St. Valentine is now restricted to the diocese of Rome. For the global Catholic Church, February 14 is the Feast of Ss. Cyril and Methodius.


A Gnostic Valentine
Far more prominent historically than any of the Saint Valentines is Valentinius of Alexandria (c. 100 - c. 153). He was an influential Gnosticism and a candidate for Bishop of Rome in 143. In his teachings, the marriage bed assumed a central place in his version of Christian love, an emphasis sharply contrasting with the asceticism of mainstream Christianity. Stephan A. Hoeller assesses Valentinius on the subject: "In addition to baptism, anointing, eucharist, the initiation of priests and the rites of the dying, the Valentinian Gnosis mentions prominently two great and mysterious sacraments called 'redemption' (''apolytrosis'') and 'bridal chamber' respectively.".


Medieval and modern times


In medieval England and France, it was common for lovers to exchange notes on this day and to call each other their "valentines".

Using the language of the law courts for the rituals of courtly love, a "High Court of Love" was established in Paris on Valentine's Day in 1400. The court dealt with love contracts, betrayals, and violence against women. Judges were selected by women on the basis of a poetry reading.

The earliest surviving valentine dates from 1415. It is a poem written by Charles, Duke of Orleans to his wife. At the time, the duke was being held in the Tower of London following his capture at the Battle of Agincourt.

It is probable that the various legends about St. Valentine were invented during this period. Among these legends:


On the evening before Valentine was to be martyred for being a Christian, he passed a love note to his jailer's daughter that read, "From your Valentine."


During a ban on marriages of Roman soldiers by the Emperor Claudius II, St. Valentine secretly helped arrange marriages.

Valentine's Day is mentioned by the character Ophelia in Hamlet: "Tomorrow is Saint Valentine's Day."

In 1836, relics of St. Valentine of Rome were donated by Pope Gregory XVI to the Whitefriar Street Carmelite Church in Dublin, Ireland. In the 1960s, the church was renovated and relics restored to prominence.

In 1969, as part of a larger effort to pare down the number of saint days of purely legendary origin, the Church removed St. Valentine's Day as an official holiday from its calendar. February 14 is now dedicated only to Saint Cyril and Saint Methodius.


Valentine's Day in North America


Valentine's Day was probably imported into North America in the 19th century by Great Britain|British settlers. In the USA|United States, the first mass-produced valentines of embossed paper lace were produced and sold shortly after 1847 by Esther Howland (1828-1904) of Worcester, Massachusetts. Her father operated a large book and stationery store, and she took her inspiration from an English valentine she had received. Since 2001, the Greeting Card Association has been giving an annual "Esther Howland Award for a Greeting Card Visionary".

In the second half of the 20th century, the practice of exchanging cards was extended to all manners of gifts in the United States, usually from a man to a woman. Such gifts typically include roses and chocolates. In the 1980s, the diamond industry began to promote Valentine's Day as an occasion for giving jewelry.

The day has come to be associated with a generic platonic greeting of "Happy Valentine's Day."

Those without a significant other sometimes speak with sarcasm by referring to Valentine's Day as Singles' Awareness Day.

Controversy was brought forth on 16 February 2004 when Nickelodeon aired an episode of Blue's Clues that was an obvious St. Valentine's Day special but referred to the holiday as "Love Day". Nickelodeon was widely criticized for attempting to evade the Christian connotations concerning the Catholic St. Valentine.

In some North American elementary schools, students are asked to give a Valentine card or small gift to everyone in the class. The greeting cards of these students often mention what they appreciate about each other. Though this practice has been criticized for possibly being irrelevant or inappropriate, it has continued for decades.


Valentine's Day in other cultures
---


Thanks to a concentrated marketing effort, Valentine's Day has emerged in Japan and Korea as a day on which women, and less commonly men, give candy, chocolate or flowers to people they like. This has become an obligation for many women. Those who work in offices end up giving chocolates to all their male co-workers, sometimes at significant personal expense. This chocolate is known as ''giri-choko'', in Japan, from the words ''giri'' (obligation) and ''choko'', a common short version of ''chokoreto'', meaning chocolate. This contrasts with ''honmei-choko'', which is given to a person someone loves or has a strong relationship with. Friends, especially girls, exchange chocolate that is referred to as ''tomo-choko''; tomo means ''friend'' in Japanese.

By a further marketing effort, a reciprocal day called White Day has emerged. On March 14, men are expected to return the favour to those who gave them chocolates on Valentine's Day. Many men, however, give only to their girlfriends. Originally, the return gift was supposed to be white chocolate or marshmallows; hence "White Day". However, men have taken the name to a different meaning and lingerie has become a common gift.

In Korea, there is an additional Black Day on April 14, when males who did not receive anything for Valentine's Day gather together to eat Jajangmyun (Chinese-style noodles in black sauce). In South Korea, there is also Pepero Day, celebrated on November 11, during which young couples give each other romantic gifts.

In Chinese Culture, there is a similar counterpart of the Valentine's Day. It is called "The Night of Sevens", on the 7th day of the 7th month of the lunar calendar; the last one being August 30, 2006. A slightly different version of this day is celebrated in Japan as Tanabata, on July 7th on the solar calendar. There is another Chinese version of Valentine's Day on the 15th day of the 1st month of the lunar calendar. This is also the 'Last Day of Chinese New Year' where Chinese people celebrate Chinese New Year for as long as 15 days. During that day, girls traditionally write their name and address on a mandarin orange, and modern people will write their name, address, cellphone number and also e-mail and finally throw it onto a river to seek for a future lover. Boys will seek for these oranges to find their future lover. This tradition is still kept today.

In Persian Culture (Iran) this popular date is discreetly celebrated by most lovers despite the disapproval of such occasion by the hardline Islamic government as a copycat of the West.

According to Jewish tradition the 15th day of the month of Av - Tu B'Av (usually late August) is the festival of love (hag haahava). In ancient times girls would wear white dresses and dance in the vineyards, where the boys would be waiting for them (Mishna Taanith end of Chapter 4). In modern Israeli culture this is a popular day to pronounce love, propose marriage and give gifts like cards or flowers.

In Brazil, there is no Valentine's Day. Instead, "Dia dos Namorados" (lit. "Day of the enamored", or "Boyfriend's/Girlfriend's Day") is celebrated on June 12, when couples exchange gifts such as lingerie, chocolates, cards and usually a flower bouquet. This day is chosen probably because it is the day before Saint Anthony's day, known there as the ''marriage saint'', when many single women perform popular rituals in order to find a good husband (or nowadays, a boyfriend).

In Colombia, the "Dia del amor y la amistad" (lit. "Love and Friendship Day") is celebrated on the third Friday and Saturday in September, because of commercial issues. In this country the ''Amigo secreto'' ("Secret friend") tradition is quite popular, which consists of randomly assigning to each participant a recipient who is to be given an anonymous gift (similar to the Christmas tradition of Secret Santa).

In Mexico, the "Dia del amor y la amistad" is celebrated similar to Colombia but this one falls on February 14.

In Slovenia, a proverb says that ''St Valentine brings the keys of roots'' so on 14th February plants and flowers start to grow. Valentine's Day has been celebrated as the day when the first works in the vineyards and on the fields commence. It is also said that birds propose to each other or marry on that day. Nevertheless, it has only recently been celebrated as the day of love. The day of love is traditionally 12 March, the Saint Gregory's day. Another proverb says "Valentin - prvi spomladin" (Valentine first saint of spring), as in some places (especially White Carniola) Saint Valentine marks the beginning of spring.

In Romania, the traditional holiday for lovers is Dragobete, which is celebrated on February 24. It is named after a character from Romanian folklore who was supposed to be the son of Baba Dochia. Part of his name is the word "drag" (dear), which can also be found in the word "dragoste" (love). In recent years, Romania has also started celebrating Valentine's Day, despite already having Dragobete as a traditional holiday. This has drawn backlash from many groups, particularly nationalist organizations like Noua Dreapta|Noua Dreapta, who condemn Valentine's Day for being superficial, commercialist and imported Western kitsch.

In Norway, Valentines Day is known as "Valentinsdagen". It is not celebrated to a large extent, but some people take time to be romantic with their partner, or send a card to a secret love.

Valentines Day also has regional traditions in the UK. In Norfolk a character called 'Jack' Valentine knocks on the rear door of houses leaving sweets and presents for children. Although leavings treats, many children were scared of this mystical person.