New Year

-

January 01, 2014
| | | | |
| --- | --- | --- | --- |
| | Shop for | | |
January 1 is the first day of the calendar year in both the Julian and Gregorian calendars. Here a calendar year refers to the order in which the months are displayed, January to December.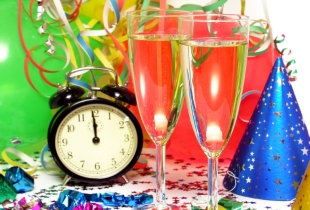 The first day of the medieval Julian year was usually a day other than January 1. This day was adopted as the first day of the Julian year by some European countries between 1522 and 1579 (that is, before the creation of the Gregorian calendar in 1582). See beginning of the year.

The British Empire (including its American colonies) did not adopt the Gregorian calendar until 1752. This change can lead to dating confusion between Old Style and New Style dates. The Gregorian calendar as promulgated in 1582 did not specify that January 1 was to be either New Year's Day or the first day of its numbered year. Although England began its numbered year on March 25 (Lady Day) between the thirteenth century and 1752, January 1 was called New Year's Day, which was a holiday when gifts were exchanged. 364 days (365 in leap years) remain in the year after this day.


Holidays and observances
---
By Observance
Many countries around the world using Gregorian Calendar - New Year's Day; often celebrated at 0:01 with fireworks.
Last day of Kwanzaa
Public Domain Day in many countries. This is the day on which copyrights expire and works are put into the public domain.
World Day for Prayer for Peace
Z Day - People with last names beginning with the letter Z get to go first in line.

By Faith


The seventh day of Christmas (and eighth night of same) in Western Christianity.
Roman Catholicism - Feast of the Circumcision (Old calendar).
Roman Catholicism - Holy Day of Obligation in many countries. Final Day of Octave of Christmas, Solemnity of Mary, Mother of God (New calendar).
Roman Catholicism - National Migration Week begins (varying official support by the office of U.S. President, not strictly religious)

By Country


Cuba Liberation Day.
Haiti Independence Day.
Scotland: First day of New Year public Holiday (the second being January 2). Most shops and businesses closed on this day.
Slovakia: Establishment of Slovak Republic.
Sudan Independence Day.
Taiwan Founding of Republic of China Day.

By City


New Year's Day Parade in London, United Kingdom.
Vienna New Year's Concert
Pasadena, California - The Tournament of Roses parade and, traditionally, the Rose Bowl football championship.


Trivia
---

April Fool's Day probably has its origin with a pre-Gregorian new year celebration which went from the spring equinox to April 1. When the new calendar, starting on January 1, replaced it, people who continued to celebrate the traditional New Year were, apparently, mocked and teased, the subject of various humorous harassment.