Keep in Touch!
Sign up for our special offers and receive a code via email for 20% off!
Memorial Day

-

May 26, 2014
| | | | |
| --- | --- | --- | --- |
| | Shop for | | |
Memorial Day will be observed on May 30 in 2011, which is the last Monday in May as it is celebrated every year. The occasion was first observed to honor those soldiers in the Union army who died in the Civil War, and it was originally called Decoration Day. After the First World War, the day honored all Americans who died in wars.

Memorial Day is an official holiday that is honored by all government organizations and many public and private companies. It has become the unofficial start of summer and the summer vacation season.

Immediately following the Civil War, placing flowers on the graves of fallen soldiers was a common practice, especially in the northern states. Officially, May 5, 1866 was the first observance of a day dedicated to the occasion. Waterloo, New York was the location and it was due to the efforts of General John Murray and General John A. Logan.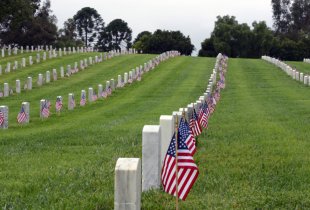 Logan was the leader of an organization for northern Civil War veterans called the "Grand Army of the Republic." In his capacity, he proclaimed that "Decoration Day" would be observed nationally beginning on May 30, 1868. The primary reason for the date was that no war anniversaries were associated with it.

The first observance had the participation of 27 states and planned events took place in 183 cemeteries. The next year, events almost doubled. The first state to make the occasion a state holiday was Michigan in 1871, but the same happened in every northern state by the year 1890.

Over 300,000 Union soldiers were interred in over seventy national cemeteries by the year 1870. The greater majority of the dead were buried in southern states because that is where the battles took place. The most famous of the national cemeteries are Arlington in Virginia and Gettysburg in Pennsylvania.

Because the inception of Decoration Day took place in the homeland of the victorious Union, speeches tended to be slanted against the southern states, and they branded southerners as the enemy. This came from politicians, veterans, and ministers alike. These kinds of speeches occurred only for a few brief years before the day became a way of honoring all soldiers who died in the war.

Although many cities have Memorial Day parades, Ironton, Ohio is the home of the longest continually held parade, which began on May 5, 1868.

In 1866, southern states began a tradition for Memorial Day that centered on the birthday of Jefferson Davis (June 3). His birthday was recognized as a state holiday in 10 southern states by 1916. As the Civil War drifted into the past, the entire nation began to commemorate Memorial Day on the same day. It was in 1882 when the occasion was first referred to as Memorial Day.