Keep in Touch!
Sign up for our special offers and receive a code via email for 20% off!
Mardi Gras

-

March 04, 2014
| | | | |
| --- | --- | --- | --- |
| | Shop for | | |
Mardi Gras (French for "Fat Tuesday") is the day before Ash Wednesday, and is also called "Shrove Tuesday" or "National Pancake Day". It is the final day of Carnival (English language: and Romance languages:). It is a celebration that is held just before the beginning of the Christian liturgical season of Lent.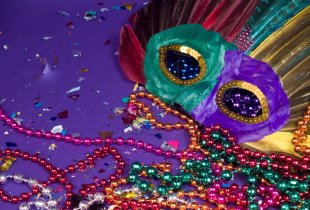 The feast should not be confused with the Swedish ''Fettisdagen'' (Fat Tuesday) or the Polish ''Tlusty Czwartek'' (which translates to Fall/15/2006 Thursday).


Mardi Gras and The Rio de Janeiro Carnival
---

The annual Carnival that is held at Rio de Janeiro in Brazil also has relations with the Mardi Gras. Actually the celebrations of the Carnival ends on "Mardi Gras". This festival is an annual event that is held 2 weeks before the traditional Christian fasting of Lent. Thousands of people from across Brazil and also from other parts of the world come to attend the festivities. Carnival comes with a lot of music, good food, color and of course the Samba dance. And of course there is the Mardi Gras, that becomes an added attraction.


Dates
---

The date can vary from February 3 to March 9 in non-leap years or February 4 to March 9 in leap years. Like Lent, the date is dependent on that of Easter.

Mardi Gras falls on the following dates in the following years:


2007 - February 20
2008 - February 5
2009 - February 24
2010 - February 16
2011 - March 8
2012 - February 21
2013 - February 12
2014 - March 4


Mardi Gras in popular culture
---
Mardi Gras is a integral to the plot of the ''Jem (TV series)|Jem'' TV series episode ''Mardi Gras''.
In the video game Hitman: Blood Money, 47 has to kill three assassins during Carnival in New Orleans.
New Orleans during Carnival season is a playable level in the video game Tony Hawk's Underground 2.
Bam Margera and his friends visit New Orleans in a Season 2 episode of Viva La Bam.
New Orleans during Carnival is a destination in the 1969 movie "Easy Rider".
An episode of The Jamie Kenedy Experiment was filmed on Johnny White's Bourbon Street balcony during Carnival.