Keep in Touch!
Sign up for our special offers and receive a code via email for 20% off!
Groundhog Day

-

February 02, 2014
| | | | |
| --- | --- | --- | --- |
| | Shop for | | |
Groundhog Day is a traditional festival celebrated in the United States and Canada on February 2. It is a cross-quarter day, midway between the Winter Solstice and the Vernal Equinox.

In traditional weather lore, if a groundhog emerges from its burrow on this day and fails to see its shadow because the weather is cloudy, winter will soon end. If the groundhog sees its shadow because the weather is bright and clear, it will be frightened and run back into its hole, and the winter will continue for six more weeks.

In contemporary popular use, it may more often refer to a situation that keeps repeating itself, due to the influence of the film ''Groundhog Day''.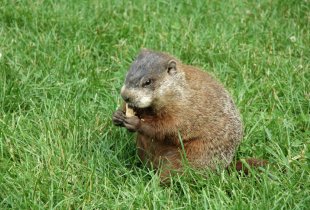 History
---

Around the fifth century, the European Celts believed that animals had certain "supernatural" powers on special days that were half-way between the December solstice|Winter Solstice and Spring Equinox. Folklore from Germany and France indicated that when groundhogs and bears came out of their winter dens too early, they were frightened by their shadow and retreated back inside for four to six weeks.

When Christianity came into being, the formerly pagan observance also came to be called Candlemas.

Some assert that the tradition of Groundhog Day originated in Punxsutawney, Pennsylvania on February 2, 1887, however the earliest American reference to Groundhog Day can be found at the Historical Society of Berks County in Reading, Pa. The reference was made Feb. 4, 1841 in Morgantown, Berks County (Pennsylvania) storekeeper James Morris' diary..."Last Tuesday, the 2nd, was Candlemas day, the day on which, according to the Germans, the Groundhog peeps out of his winter quarters and if he sees his shadow he pops back for another six weeks nap, but if the day be cloudy he remains out, as the weather is to be moderate. According to the Works of Carmi (published in 1974) the groundhog is psychologically shaken when it sees its shadow, its lack of shadow is a blanket of security and when a groundhog sees it- he is determined to hide for 6 weeks"

In the U.S. the tradition derives from a Scottish poem:
''As the light grows longer''
''The cold grows stronger''
''If Candlemas be fair and bright''
''Winter will have another flight''
''If Candlemas be cloud and rain''
''Winter will be gone and not come again''
''A farmer should on Candlemas day''
''Have half his corn and half his hay''
''On Candlemas day if thorns hang a drop''
''You can be sure of a good pea crop''

This tradition also stems from similar beliefs associated with Candlemas Day and Hedgehog Day. Although the date is often referred to as one of the four quarter days of the year (the midpoints between the spring and fall equinoxes and the summer and winter solstice), it is in fact one of the cross-quarter days and has roots in the pagan festival of Imbolc and the Celtic festival of Brigid celebrating the fertility which follows the growing light of Spring.

Indeed, bright, clear weather in a North American winter is often associated with very cold temperatures.

In Western world the official first day of Spring is about six weeks after Groundhog Day, on March 20 or 21. About 1,000 years ago, before the adoption of the Gregorian calendar when the date of the equinox drifted in the Julian calendar, the spring equinox fell on March 16 instead. This was exactly six weeks after February 2. Assuming that the equinox marked the first day of spring in certain medieval cultures, as it does now in western countries, Groundhog Day occurred exactly six weeks before spring. Therefore, if the groundhog saw his shadow on Groundhog Day there would be six more weeks of winter. If he didn't, there would be 42 more days of winter. In other words, the Groundhog Day/Hedgehog Day tradition may have begun as a bit of folk humor.

Alternatively, the custom could have been a folk embodiment of the confusion created by the collision of two calendrical systems. Some ancient traditions marked the change of season at cross-quarter days such as Imbolc when daylight first makes significant progress against the night. Other traditions held that Spring did not begin until the length of daylight overtook night at the Vernal Equinox. So an arbiter, the Groundhog/Hedgehog, was incorporated as a yearly custom to settle the two traditions. Sometimes Spring begins at Imbolc, and sometimes Winter lasts 6 more weeks until the Equinox.


Famous prognosticating groundhogs
---
Punxsutawney Phil found in Punxsutawney, Pennsylvania
Staten Island Chuck found in New York City, New York
Wiarton Willie found in Wiarton, Ontario


Past predictions
---
2006
6 more weeks of winter- Dunkirk Dave, Punxsutawney Phil, Buckeye Chuck
Early Spring- Spanish Joe, Wiarton Willie, General Beauregard Lee, Staten Island Chuck, Shubenacadie Sam, Jimmy the Groundhog, Malverne Mel, French Creek Freddie

2005
6 more weeks of winter- Punxsutawney Phil, Shubenacadie Sam, Spanish Joe, Octorara Orphie, Malverne Mel
Early Spring- Wiarton Willie, Jimmy the Groundhog, General Beauregard Lee, Balzac Billy, Staten Island Chuck

2004
6 more weeks of winter- Punxsutawney Phil, Wiarton Willie, Spanish Joe, Balzac Billy, General Beauregard Lee, Malverne Mel


In fiction
---

The 1993 comedy movie ''Groundhog Day (film)'' takes place in Punxsutawney, Pennsylvania on this day (although the movie was actually filmed in Woodstock, Illinois). The main character (played by Bill Murray) is forced to relive the day over and over again until he can learn to give up his selfishness and become a better person. It is said to be one of the best fantasy/comedy movies of the 1990s. Starting on January 9, 2006, the Pennsylvania Tourism Office presents installments of the Groundhog 202 film series, a promotion that plays off ''The Shining (film)''. The film shows what happens when the Groundhog, stuck inside for 364 days, goes mad with cabin fever.