New to our site?
Save 20% on your first order!
Can't find the perfect card?

"These cards are absolutely beautiful! If I do something wrong on the card, all I have to do is call, and they will correct it!! You can personalize your cards, and type anything you want on the inside note. Some of the cards can be personalized on the outside as well. IF I could rate 10 STARS, I would! Thank you, Greeting Card Universe!!"
Sharon - Harpursville, New York - May 14th, 2022
"These cards are great. I love that you can write your own message in them. They are very nice and will even mail them for you. It is really a one stop shop. I highly recommend them as a company. I have used them now for a year or so and can't say enough good about them."
Chelsea - May 16th, 2022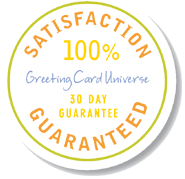 Search was unable to find any results for
"wedding%20day%20cards"
.
You may have typed your word incorrectly, or are being too specific.
Try using a broader search phrase or try one of our most popular search phrases.
Take a look at our most popular Greeting Cards:
---
---
Popular Searches
$html->{footer_partner_js}