New to our site?
Save 20% on your first order!
First Christmas Alone Loss of a Love One Winter Snowscape Thinking of You card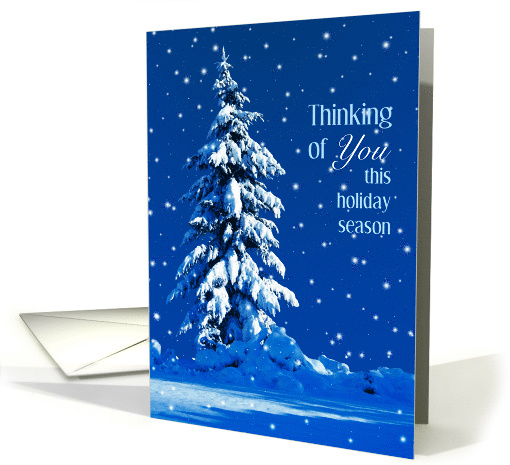 First Christmas Alone Loss of a Love One Winter Snowscape Thinking of You card
Details
Size/Quality
Pricing
Shipping
Price:
$3.89
(includes envelope),
as low as
| Quantity | Price Per Card |
| --- | --- |
| 1 - 1* | $3.89 |
| 2 - 4* | $3.39 |
| 5 - 9 | $3.19 |
| 10 - 24 | $3.09 |
| 25 - 49 | $2.79 |
| 50 - 99 | $2.59 |
| 100 - 199 | $2.19 |
| 200 - 499* | $2.09 |
| 500 - 999* | $1.69 |
| 1,000 - 2,999* | $1.59 |
| 3,000+* | See bulk pricing |
$1.59
Inside Text:
There are sure to be many painful firsts
without your loved one this year.
None perhaps as poignant as Christmas and the New Year.

There aren't any words
that will take away your pain.
Only to share that the pain you feel
is a reflection of the love you have
and will always have for them.

Please let me know
how I can make the holidays any easier for you
and please know you are in my thoughts.
Customize:
Inside text only
Artist:
M.S. Rosso
Original image by: Hannamariah/Bigstock.com
Availability:
In Stock - Ships the next business day
Size:
Folded 5" x 7" greeting card
Artist Notes:
The winter holidays should be the happiest and most joyful of times, but for someone who has lost a loved one the first Christmas and New Year without them is sure to be painful beyond words. Reach out to someone still in grief and bereaving the passing of their loved one to let them know you are thinking of them. Not sure what to say? Any comforting words are better than no words at all. This lovely blue starry sky with a peaceful snowfall and snow laden pine tree can deliver your kind words.
Loading 2...
Loading 3...
Loading 4...
Reviews for First Christmas Alone Loss of a Love One Winter Snowscape Thinking of You card

"Specialized Holiday Card for Recently Bereaved"
By Karen B - December 29th, 2022
A family member's daughter passed away 2 weeks before Christmas. I wanted them to know I was thinking of them during this usual joyous season but didn't think the "usual" Christmas card was appropriate in this situation. Greeting Card Universe had the perfect card and I was able to personalize it for each member of the family. I'm so thankful to have found this company!

"Really nice card"
By kb - December 16th, 2021
The card is very nice and appears as it does on the website. It arrived promptly. I liked the option of personalizing the text. I will send these card to friends who has lost a loved one.

"Christmas card"
By Teresa - December 24th, 2018
Great card and fast delivery thanks. Bought for my neighbour as its her first Christmas without her husband.The verse was lovely with an option to change the wording if required.

"Great for 1st Death"
By Laura W - January 11th, 2018
This card had just the right sentiment to send to my friend who had the first Christmas after the death of her husband.
Testimonials from Shoppers that Ordered this Card
Kenneth - Dec 13th, 2021
"This site is so convenient and easy to use. We were able to personalize and even redesign the cards for our business purposes quickly and easily with no extra costs. Order was filled in a timely manner and was accurate. The price was good, too! After using this for the office, my wife and I ordered personal cards as well, and took advantage of the sites mailing services to post our cards as well. Next Christmas we want to send all of our Christmas cards this way."
Tania - Dec 12th, 2018
"Beautiful card. lovely words, excellent price and service, arrived within a few days, in a padded envelope and bubble wrap for protection."
Frieda - Dec 22nd, 2022
"I was thrilled to receive my order. The words in each card were so touching and personal, which is what I wanted them to be. I would recommend the cards I bought and the other ones that you have to anyone. Again the wording for each card was beautiful. I certainly will purchase additional ones in the future."