Wednesday, September 23rd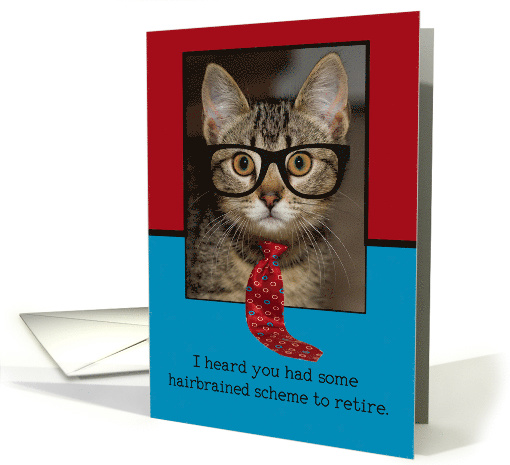 Please list any awards or contests you've won outside of GCU.
I've won several slogan contests, a Springbok Puzzle Image contest (Marble Madness is the name of the puzzle I contributed the photograph for)
and I've written for Hallmark (A little gift book called Thanks Mom) and Chicken Soup for the Soul, Angels All Around.
Please list the URLs of your 3 favorite cards in your storefront and why they are your favorites.
I think we become attached to each card we create as designers.  There are a few that I'm particularly fond of.
I submitted this image to a Hallmark pet photo contest and it wasn't a winning entry.  Instead of pouting, I decided to design the card myself and submit it to GCU.  It was, I believe, my first submission and it's my best selling card.  It has earned far more at GCU than the winnings would have been through the Hallmark contest.
Funny New Mower for Father's Day Goat Eating Hay card
This was a fun card to write.  My husband is my most serious critic and he loves this card.  He's a lawnmower connoisseur and over the years, I've been subjected to the constant banter of lawnmower terminology.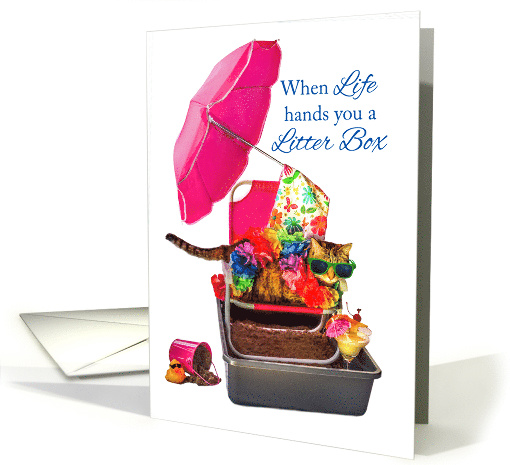 Funny Cat in Pink Beach Chair with Umbrella Litter Box Encouragement card
My cat, Tahiti, was very cooperative with this idea.  This card won the Best Design Challenge Submission in 2018.  I probably spent more money on props than usual (I usually limit my prop spending to $5 when designing a card) but it was totally worth the effort.
What was your inspiration for your winning card? Please walk us through the process of how this card went from an idea to a greeting card.  
I'm generally an impatient person.  When I have an idea, I get right on it and sometimes, I complete a task only to review it later and ask, "What was I thinking?"  I thought about hair and tried to pair it with cats because I have a million cat photos.  The original design had the phrase, "I heard you had some hairball scheme to retire."  It should have read, 'hairbrain scheme' but for some reason, I had the word 'hairball' in my hairbrain and didn't realize until I actually posted it that it was incorrect.  I had to change the image before it was reviewed so I was in a state of panic.  I'm sure the reviewers think I'm a nut.
What sparked your interest in art? Did you start as a young child?  
My dad was an architect and he was an amazing artist.  He used to draw us in caricature form and we loved it.  I found that, although I don't consider myself an artist, I can accomplish some humorous works of art through the use of photography and photoshop.
Do you have formal training or are you self-taught? 
I took a class in black & white photography when I was in college, just to fill some time in my senior schedule.  I loved it.  I also took an online class in portrait photography through our local community college.  Other than that, I've learned through the mentoring of friends and a lot of practice.
Is your work done by hand and then scanned or do you work entirely on the computer?  
I've done a little work by hand, like when drawing font for a Christmas card, etc.  Most of what I do is in photoshop.
Have you ever/do you currently have a job other than as an artist?  
My degree is in business / legal assistance and I work part-time for a financial advisor, however, I've been on the hunt for a job with benefits.  This is a crazy time to job hunt.
What GCU artist(s) do you admire?  
This list is lengthy but the short list would include LisaCrisafi and Kathleen Johnson.
Ok, we have to ask.  The cats in your designs, tell us all about them!
Most of the cats in my designs are photos of Tahiti.  She was a rescue cat that my oldest son adopted from a local shelter.  When my son moved into his own home, he said, "She likes you better than she likes me so I'll leave her here if you want me to."  I was elated. She became my caregiver during my chemo treatments.
The most recent cards contain photos of my son's kitten.  Once again, he rescued a kitten, this time from the railyard where he works.  This kitten is a little ornery and very curious.
What would we be surprised to learn about you?  
I'm actually quite handy around the house when I need to be.  I've replaced a garbage disposal, done some minor plumbing, repaired a washing machine, learned to drywall and installed a couple of light fixtures.