Thursday, May 19th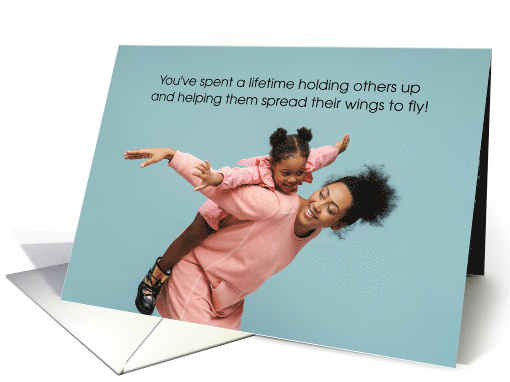 What was your inspiration for your winning card? Please walk us through the process of how this card went from an idea to a greeting card. 
I knew I wanted to do something inspirational for this card. I think educators really do lift us up and help inspire us to be the best versions of ourselves, so I wanted to reflect that in the card. When I started searching for images and found this one, I knew exactly what I was going to do with it.
Stock Card Creations can be tricky and there are so many images to choose from.  What advice do you have for other artists on how to settle on one image?
Basically, I usually have a pretty good idea in mind for a card when I am searching for an image. Then it is just a matter of typing in the right keywords.
Some things I usually have in mind when searching are:
What kind of card am I creating?
Birthday?

Holiday?

Business?

Get Well?

Bereavement?
Who is the card intended for?
Is it for adults, kids?

Do I want something that speaks to many age groups or one specific age group?
Is this a card for personal use or business?
What is the overall tone of the card going to be?
Is it funny or serious?

Is it heartfelt or sarcastic?
Is this something new or different for the category it is intended for? You want to create something that adds to the selection, not repeats what is already there.
Holiday card sales are picking up.  Which of your card designs do you predict will be your best seller this year and why?
I think this Dairy Farm Cow Card will do well. People own dairy farms and like farmhouse theme cards, so I think this one will go over well.
What is your favorite holiday or occasion to design cards for and why?
I like to make Christmas cards because that is one of my favorite times of the year.
You have created some COVID-19 themed cards.  Which is your favorite and why?
One of my favorite Covid-19 related cards is a humorous Cat in Santa Hat Christmas card that I designed just because it brought a little humor to the pandemic.
Ok, now for the fast five, fun questions … 
Whom would you call for bail money?
My sister Lola.
What was the worst job you ever had and why?
I worked on an assembly line and built small motors. I hated it because it was so monotonous.
Who was your childhood actor/actress crush?
David Cassidy
What's the grossest food you ever had to eat to be polite?
Menudo
Pick up pennies or walk past them?
I pick them up if they are heads up – if not I flip them over for someone else to find.