Tuesday, April 22nd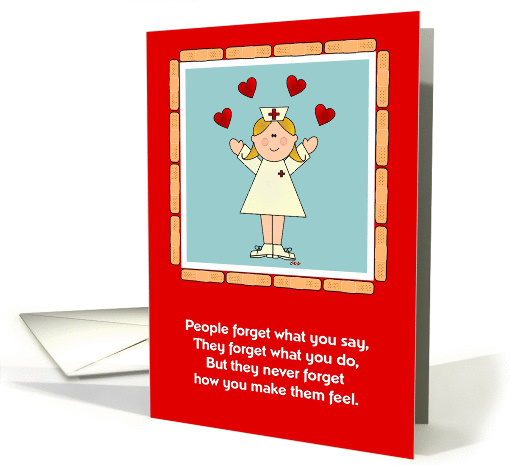 National Nurses Day occurs annually on May 6 and is a global event, observed in many countries. National Nurses Week takes place May 6-12 each year. Both holidays are celebrations of f nurses and nursing staff. No matter what type of nurse—RN, LPN, CNN, vocational, APN, NP, CNL, CNS, registered midwife, CRNA, doctor of nursing practice or nursing PhD—at this time, patients, patients' families and co-workers express their appreciation of the dedication and hard work put in by nursing professionals.
Here are 5 Things You May Not Know About Jurses, Nurses Day and National Nurses Week.
A special day for nurses was first requested of US President Dwight Eisenhower in 1953—no action was taken, but that didn't stop a celebration of Nurses Week in October 1954 to mark the  100th anniversary of Florence Nightingale's work during the Crimean War—it took until US President Richard Nixon signed a proclamation in 1974 that Nurses Day became officially recognized.
Although there is a chronic shortage of nurses everywhere in the world, the World Health Organization in 2010 ranked India at the top of the list of countries in desperate need of nursing professionals—2.4 million, in fact.
Considered America's first professionally trained nurse, Linda Ann Judson Richards graduated in 1873. Among other things, she developed a nursing uniform and for the first time in the history of medicine, kept written doctor's notes and her own organized to create patients' medical files. The first African-American nurse in America was Mary Eliza Mahoney, who graduated in 1879. Mahoney was a nursing pioneer who was also the first woman to register to vote in Boston in 1920 after the passing of the 19th Amendment.
The American Civil War changed the attitude of Americans toward nurses. Prior to that time, the term "nurse" mainly meant a woman who had received informal training or little training in medical care. Furthermore, women were supposed to stay at home caring for their children, the household and their husband. During the war, women volunteered to care for the sick and wounded. Their battlefield experience pointed out the need for more education. In 1869, the Women's Hospital of Philadelphia graduated its first class of trained nurses.
Some of the countries celebrating International Nurses Day on May 12 are India, the UK, New Zealand, Australia, Canada, Singapore and South Africa.
Greeting Card Universe honors the  nursing professionals who give so much care to their patients every day. Thank a nurse and show your appreciation with a special Nurses Day card from our collection of unique designs. In a hurry? Order on-line, get free in-store pick-up, usually in 1 hour, at most Target and Bartell Drug stores.
What Are Happy Customers Saying About Greeting Card Universe?
"I've found cards I couldn't find anywhere else so easily … a beautiful card for a gay wedding; cards for birthdays on or near Christmas; the ability to personalize a card for the birth of a child; many choices in many categories. The cards are as they were pictured. The cards were delivered w/in a few days. I have been completely satisfied and will continue to get cards from this site."- Ila – April 17, 2014