Tuesday, April 11th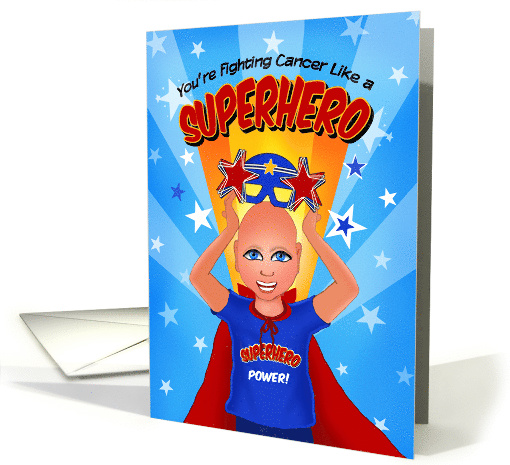 GCU March Design Winner Tammy Moody
Please list any awards or contests you've won outside of GCU.
Over the years I have won numerous awards (including Best of Show, First, and Second place awards), for my still life, wildlife, and horse art in local art shows. I was also published in Horses in Art Magazine several years back. Then I was honored to be invited to show a collection of art at the Grand National Rodeo Art Show in Los Angeles. I was one of 500 artists worldwide to be invited to the event.
Please list your 3 favorite cards in your storefront and why they are your favorites.
Jesus Our Savior Easter Card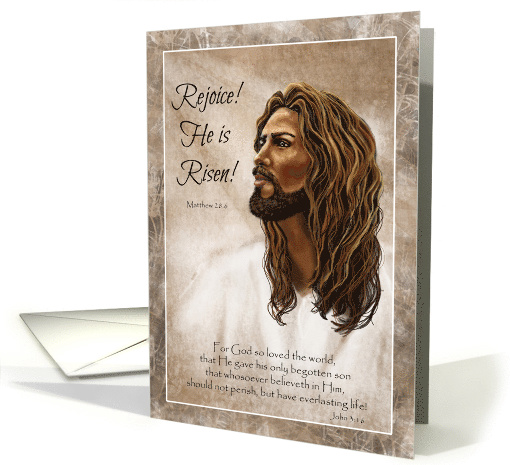 This is one of my favorite recent card designs because not only was it my first attempt at a full digital portrait painting, but also a first attempt at creating a portrait of the Savior. I like having the opportunity to offer cards for Christians in my store front as well as cards for everyone else. This design allowed me to offer a very meaningful, uplifting, unique design with a more contemporary feel that is unavailable anyplace else. In fact, I created a series of cards with this design to fill a need in the marketplace and appeal to Christians of all ages.
Chocolate & Strawberry Love Romance Card
Another newer design I like is this Chocolate & Strawberry Love/Romance Card. I liked the whole concept of this design because it illustrates how two very different individuals can come together and make a great combination. I tried to think of things that go together well, like peanut butter and jelly, but for love and romance I wanted to use something people would associate with love, so naturally chocolate and strawberries came to mind. I really enjoyed bringing some animation to the chocolate drop and the strawberry on this one. And the verse brings the whole design concept together perfectly. I created custom Valentine's Day cards with this design so people could personalize it and send to a grandchild, spouse, or boyfriend or girlfriend. It is just a cute and unique way to let someone know you think you go together well!
Bunny Easter Egg Hunt Card for Kids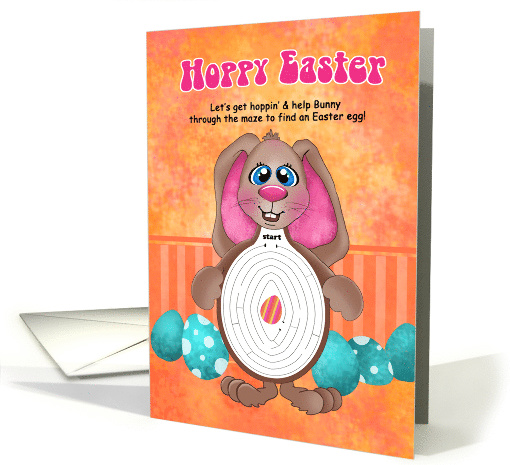 Another new design in my storefront that I really like is this Easter Bunny Maze for kids. I enjoy creating art for children. When I was a kid, I always liked mazes, puzzles, and activity cards. So as an adult I try to include a few of these types of cards for kids who like to do the same. I think activity cards of any kind are a fun way to send greetings to any child. I hope in the future to work on activity cards for autistic kids as well.
Please list any of your professional social media sites.
Tam Moody Greeting Cards Facebook Page
What was your inspiration for your winning card? Please walk us through the process of how this card went from an idea to a greeting card.
I had seen news stories of adults dressing up like super heroes and visiting kids with cancer in the hospitals and I know cancer affects so many people, including many children. So many families like my own have been faced with cancer, so I know firsthand how scary the diagnosis and treatments can be. I had recently heard a story about a little boy who had finally lost his battle with cancer. While he was alive, I was very touched the way the community rallied around him and talked about how amazing this little boy was because even though he was fighting his own battles, he was still able to put a smile on his face every day and be a light in the community. So that is where the idea for this design originated. I thought so many kids out there are just like him and face so many huge obstacles while fighting this horrible disease and still manage to get up every day, put a smile on their face, and go about their daily lives. And I thought this is something that takes incredible inner strength and courage. So I wanted to do this card in honor of these kids, to reach out to them, but yet bring more awareness to how truly inspirational they really are. When the Super Hero Theme became a design challenge, I thought it was a perfect opportunity to bring this idea to life and address the subject for kids and families going through the cancer fight. Many cards available are designed with adults in mind, but I wanted a special design for kids. I thought it would be a great way for hospital staff, churches, community members, schools, or friends and family members to let a child know how much they admire their courage and let them know they are thinking of them and supporting their fight. So I thought there was no better way or time to do that than to portray these kids as the real super heroes that they are and that was the inspiration behind my design.
What sparked your interest in art? Did you start as a young child?
I came from a large family of crafters, artists, mechanics, and builders. So I was introduced to all kinds of hobbies at an early age. I picked up on art early in life. By eight years old, I was frequently creating my own artwork and by twelve, I was drawing advanced, detailed portraits and still life art. So art has always been a huge part of my life.
Do you have formal training or are you self-taught?
I am a self-taught artist.
Is your work done by hand and then scanned or do you work entirely on the computer?
I sometimes draw and scan artwork into the computer, but most of the time I create from scratch in Photoshop. I like working in layers and some of my work will have hundreds of layers involved in a final piece.
Have you ever/do you currently have a job other than as an artist?
Art was always a side career for me, at least until 2006. Since then, I have been working more steadily in the art world. In 1996 I began learning about digital photography and printing which helped me begin dabbling in digital artwork and since then, I have been creating art regularly and uploading images for greeting cards and print on demand gifts and apparel.
What GCU artist(s) do you admire?
I have always admired Corrie Kupiers, Susan Allison, and Makiko Kimira. They all have a bold, unique style that is fun and easily recognizable. I can look at a thousand images all at once and know their work when I see it.
What advice would you give artists who are hesitant about entering a Design Challenge?
I would say enter the contests to broaden your horizon and build your card portfolio. You will design for categories you may not normally think about which will help your sales. Then if you win, that is just an added bonus.
We understand that you illustrate books. What is your favorite part about book illustration?
I like to bring the characters to life and help the author tell their story through pictures. It is fun. You can tell ten different people a story and all ten will envision it differently, but when you have the opportunity to show others how you envision the story, then readers will see the characters through your eyes. My favorite part is designing the book covers because I like to make the image pop so the book grabs a reader's attention and leaps off the shelf.
What would we be surprised to learn about you?
Ironically, I am a visually challenged artist. I was born with a lazy eye that is useless except for seeing blurry objects. So I rely on only one eye for everything- including creating artwork. Many times I have to close one eye when creating larger bodies of work so I can see clearly.
Save
Save
Save
Save
Save