Monday, October 6th

Celebrations of light, joy, and prosperity have their place in many cultures. Diwali – also called Deepavali or Deepawali – is an important annual tradition for many Hindus, Jains, and even some Theravada Buddhist practitioners. It celebrates wealth, prosperity, luck, and happiness. The chief patron figures honored during this festival are Lakshmi, the mother of wealth, and Ganesha – who are often attended by symbols of luck, abundance, and material comfort. This is a time when we show gratitude for what we have attained and offer prayers for the coming year.
Why We Celebrate
At its core, Diwali is the celebration of Light over Darkness. The terms refer to Knowledge and Ignorance respectively. Traditionally, it is observed in accordance with the Hindu calendar, falling on the 15th day of the month of Ashvin. We celebrate with our neighbors, family, and friends, to remind us of the gifts of the light, even in times of darkness. This act of togetherness with those we cherish calls us to mindfulness of the true wealth of life. It also functions to invite prosperity to us and those we value in our communities. That is why, although the symbols and deities honored during this time are traditionally Hindu, it welcomes those of other faiths and disciplines to share in the Light and its blessings.
Symbols of Diwali and How They Are Used
There are several large themes present in a Diwali card you might send to a loved one. These incorporate a number of interwoven symbols that have deep meanings of their own. Because we'd like you to share fully in the understanding that is key to the concept of Light, we'll touch on each of them individually below.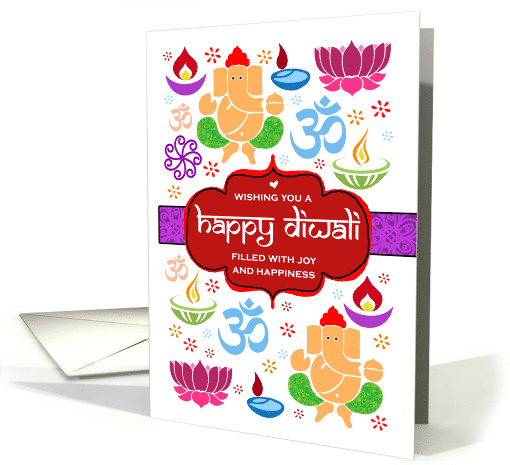 Ganesha
He is the Elephant-headed son of Parvati, one of the goddesses who wield the creative life force of Devi. He is associated, among other things, with Luck specifically for this festival. Often cards will depict him seated and smiling a blessing upon the recipient of the festival greeting.
Lakshmi
As the Mother of Wealth, she dispenses blessings and is associated with the generosity of the Universe in accordance with proper living. Her symbolism is representative of the reflection of positive social attributes, such as generosity and kindness – giving light out into the Universe so that it comes back to you in blessing.
The Lotus
Lotuses are symbols with their own cosmos of meaning surrounding them. But they are often depicted in tandem with Ganesha and Lakshmi, both in traditional art and on Diwali greeting cards, because they are associated in value. Known as Padma in Sanskrit, this flower is associated with beauty and non-attachment. Its association with the patrons of Diwali signifies that goodness comes into our lives as a blessing and may be gone again soon. Cherish what truly matters, the moments of closeness and understanding, companionship and helpfulness we experience daily in our relationships. If we show reverence to what is truly valuable, goodness and wealth, material comfort and security will come again and again to our doors.
Diwali Lamps (Diya)
The simple image of a flame in a traditional ceramic lamp is often used to signify the inner meaning of the festival, and frequently appears on greeting cards without any other imagery. However, pairing it with other symbols may associate the Light of Knowledge with ideas of non-attachment to material wealth, a value for the simple beauty of the world, or the wealth that comes with truly seeing those closest to you as the treasures of your life.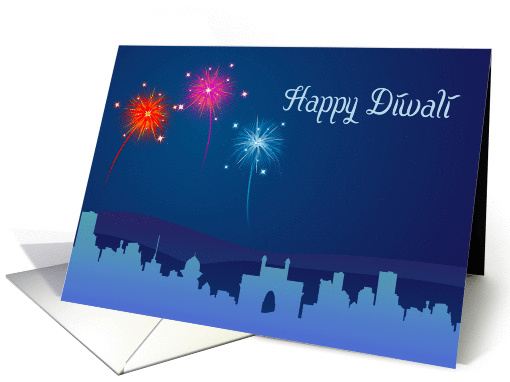 Fireworks
These are often both symbolic of light and joy as well as actual entertainments that accompany a Diwali festival. They are emblematic of the expansive and powerful presence of the Light of understanding when it is spread in the Darkness of ignorance, blind hatred, or violence. These bombastic and brilliant flowers are also tied to the lotus imagery and that of the simple lamp flame. For their innate power to inspire delight, awe, and call attention to the deeper meanings of the celebration, they are frequently used on Diwali greeting cards. They tell someone close to you that they "light up your life."
When it comes to selecting the perfect Diwali cards for those you value most, there are a number of differing artistic styles and themes from which to choose. Whether your tastes and needs are modern or deeply traditional, Greeting Card Universe offers wide selection of beautiful Diwali cards. Whether you are able to spend this special time with the ones you love and the members of your community who know you best, or you're far from home, you can let them know that they render your life rich with love, joy, and peace. They are the true treasures in your world. During the festival of Light and all year round, you hold them gently in your heart and your thoughts.