Wednesday, February 8th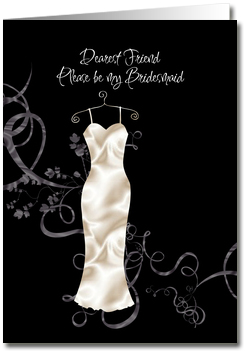 If your beau has popped the question and the wedding planning is underway, it's your turn to pop the question to your soon-to-be bridesmaids. Unlike engagement and formal invitation cards, bridesmaids cards are individual bridal party invitations that are designed just for you and your special, select group. Your bridesmaids-to-be will save and cherish their invitation, and the possibilities for creativity are endless.
Setting the Mood
By the time you start planning your big day (and perhaps for years before the question is even popped), you'll have some idea of the general theme, size and setting of your wedding. Whether you want a small outdoor reception at the beach or a 400-guest extravaganza in a convention center, the type of card you send to your bridesmaids (as well as the general engagement card, save the date card and formal invitation card) will set the tone for the theme of the wedding to come. Formal wedding cards are traditionally favored by some, but in the last decade more women are choosing to go a bit off the beaten bridal path. From save-the-date magnets to interactive website invitations, the amount of modern flair that you can add to your bridesmaids cards is entirely at your fingertips.
Timing
Bridesmaid cards are traditionally sent before the formal wedding invitation card, but  after the save-the-date and engagement announcement. You'll want to ask your bridesmaids to
"save the date" as guests before you ask them to be in the bridal party, so that when they mark the date on their calendar, they will know if they can be part of the show. It's also a good idea to give out the bridesmaids cards as early as possible, as airfare and wedding dresses will need to be saved for, in some cases.
Options
Bridesmaid cards come in a variety of styles, colors and even shapes, and most usually come with a secondary stamped envelope to send the reply. Themed cards, such as sci-fi, scrabble or cocktail themes are fun, or you can choose a color or idea theme that matches the future formal invitation card. You can choose an elaborate card and sign your name, or go for a more simple blank card and write your own personal message. Some cards are designed in packs of 5 or 10, depending on the number in your bridal party, while others are sold separately so that you can pick the exact number. In either case, order a few extra bridesmaid cards to cover postal mixups or pen slip ups, just to be on the safe side. Another fun idea is to make a photo card. Inexpensive and easy to duplicate, photo DIY bridesmaid cards are a fun way to send a personalized photo of you and your gals.
Just like throwing a bridal bouquet at a group of wedding-goers, shopping for bridesmaid cards can be hit or miss, so you'll want to make sure you've found the right company and card. If you've already chosen a maid of honor, drag her out to a coffee shop to pour over your narrowed-down ideas. Once you have chosen the right design, all that is left is to personalize, seal and stamp your cards.