Tuesday, December 17th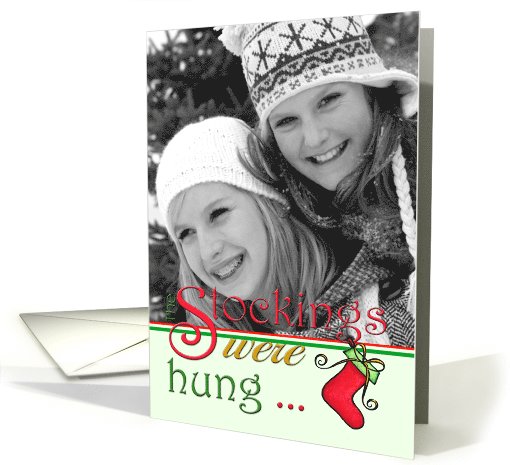 One of the great traditions of Christmas is the stocking "hung by the chimney with care, in hopes that St. Nicholas would soon be there" according to the 1823 poem attributed to Clement Moore. Today's Christmas stockings aren't the kind you wear, but over-sized creations decorated for the holidays. Where and when did the custom originate? Check below to find out the answers to five common questions about Christmas traditions.
1. What's the Deal with "Figgy Pudding?"
In the song, "We Wish You a Merry Christmas," the carolers demand "figgy pudding." What is it? "Pudding" in this case refers not to a sweetened, thickened dairy dessert, but an English-style steamed cake. A figgy pudding contains dried figs, dates, and raisins. If you want to try making this classical holiday treat, here's a recipe.
2. Why Hang Up a Stocking?
The truth is, the origins of the traditional Christmas stocking are shrouded in myth. Prior to the mention of the custom in the 1923 poem, 'Twas the Night Before Christmas, there's no written record of hanging stockings at Christmas time. In other countries, children put out their shoes to receive small treats like candy, a piece of fruit, and/or toys.
3. Who Invented Eggnog?
Love it or hate it, eggnog — a holiday drink made with eggs, milk, sugar, and spices like cinnamon and eggnog, and which may or may not contain alcohol — began as "posset," a hot beverage enjoyed by the medieval English which was made from heated milk curdled with ale or beer. Later, eggs were added, but the drink became less popular until early settlers in Jamestown in early 17th century America rediscovered the brew and deemed it delicious. Even George Washington had his own special recipe for a boozy eggnog.
4. Why Do We Sing Carols at Christmas?
Traditional Christmas Carols like God Bless Ye Merry Gentlemen have their origin in the 19th century, when Christian folk music, old church hymns, and new Christmas-themed music began to merge in Britain. Music publishers picked up on the trend, allowing people to combing visiting friends and family with singing the popular songs, creating the custom of caroling at Christmas-time.
5. Why Do We Hate Fruitcake?
Fruitcake is the butt of many holiday jokes, but the truth is, a good homemade fruitcake is a mouth-watering delicacy stuffed with dried and candied fruits and moistened by rum or brandy. Since the Middle Ages, people have enjoyed making and eating variations of fruitcake. Why did the Christmas staple decrease in popularity? The blame can likely be placed on mail-order bakeries which sprang up in the 20th century to feed the demand for convenience. Unlike homemade treats, these commercially produced fruitcakes were often dry, dense, lacking flavor and fruit, and just plain terrible, which caused fruitcake's reputation to decline.
Greeting Card Universe's collection of one-of-a-kind  Christmas cards help you celebrate your own traditions in your own way with thousands of unique, customizable designs for everyone on your list. Need cards at the last minute? No problem! Order on-line, get free in-store pickup, usually in 1 hour, at most Target and Bartell Drug stores.
What Are Happy Shoppers Saying About Greeting Card Universe?
"The cards that I ordered were very tasteful and easy to order. I found that there was a great selection of cards to chose from and I intend to continue to order cards from Greeting Card Universe. I just referred a friend to this site and I know that she will be able to find what she is looking for. The price is reasonable and saves me a lot of time shopping for that special card. Brenda M." – Brenda, December 16, 2013