Friday, December 21st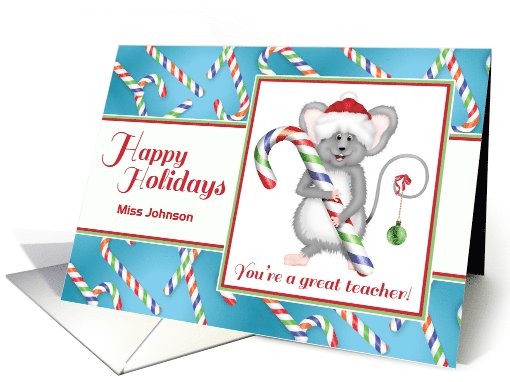 The holiday season just wouldn't be the same  without some last minute scrambling.  Despite my best planning and intentions, there was someone overlooked, a special teacher.  I thought our standard family Christmas card would suffice but my daughter felt otherwise.
"But mom, she's my FAVORITE teacher!" she insisted.
Okay, okay, I get it but with this being the last week of school, this needed to happen today and only today.  Gads!
So last night I ordered the card online from home (personalized with the teacher's name).  On my way to work, I swung by the Target store near my office (beating the afternoon crowds was a relief), picked out a festive mug and chocolate treats before heading over to the photo department.  Voila, there was my card and envelope – printed to perfection!
As I headed to checkout I felt quite smug as I passed a small crowd of last minute shoppers pulling cards from the card display with distressed looks on their faces, trying to find that "perfect card".  and I thought … if they only knew.  Gosh, I wish they knew!
Happy holidays and thank you to all of those special teachers who go the extra mile to make their students feel important, capable and proud to be smart – that means you Ms. Muse.  For you, the extra effort was my pleasure!
SPECIAL: All cards $1.79 each, use code 2012DEC179 at checkout!
What Are People Saying About Greeting Card Universe?
"This is the second time I've ordered from Greeting Card Universe, and have been very satisfied with both orders. Beautiful cards, with well-written, meaningful sentiments. And especially important for me, the ability to order them online and have them mailed to me. They arrived in sturdy cardboard-type envelopes. So convenient!" – Patricia, December 19, 2012