New to our site?
Save 20% on your first order!
Can't find the perfect card?

"Excellent quality, many options often not found in brick & motor stores, good prices with promos too. Thank you."
Sherry - May 17th, 2022
"I stopped buying drug store cards years ago. They don't have cards for detached retina surgery, or a miscarriage or happy divorce day, or the death of an ex-spouse, or funny cards about hip replacement or a root canal. Being able to personalize each and every card makes the receiver feel that you really understand their circumstance. People may not remember what you did for them, but they will remember how you made them feel and that's what Greeting Card Universe does. Makes people FEEL like they are special. LOVE THIS COMPANY!!!"
Muriel Sue - May 19th, 2022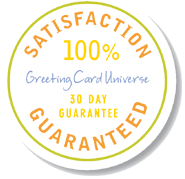 Search was unable to find any results for
"wedding%20cards"
.
You may have typed your word incorrectly, or are being too specific.
Try using a broader search phrase or try one of our most popular search phrases.
Take a look at our most popular Greeting Cards:
---
---
Popular Searches
$html->{footer_partner_js}