New to our site?
Save 20% on your first order!
Can't find the perfect card?

"So very pleased with the cards I ordered for a special occasion to celebrate our police department. I will order other cards in the future for special occasions. I highly recommend the high quality work that you folks put into printing these cards. Thanks so very much."
Linda - Jan 18th, 2023
"I love Greeting Card Universe! I have been ordering from them for a few years now, and they never disappoint. I love that I can order cards from the comfort of my home, customize any card to my liking and choose from their vast variety. The quality of each card is awesome. They usually arrive in about a week. I chose this card for my granddaughter, who turns 17 next month. She just got her drivers license, so I thought this card was perfect. I would highly recommend this card company the next time your looking for a card, no matter what the occasion. You won't be sorry. 😉"
Diane - Jan 19th, 2023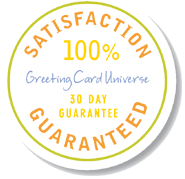 Search was unable to find any results for
"blank%20note%20cards"
.
You may have typed your word incorrectly, or are being too specific.
Try using a broader search phrase or try one of our most popular search phrases.
Take a look at our most popular Greeting Cards:
---
---
Popular Searches