New to our site?
Save 20% on your first order!
Can't find the perfect card?

Category
Custom Photos (Front)
Custom Text (Front)
Orientation
Adult Content
Artist

"I have honestly bought every one of my cards, (regardless of occasion) for years from Greeting Card Universe! Unbelievable variety of card-type, great price, and super-fast delivery. The ability to create a personal touch to any card, makes a fun project out of a previously dreaded task. I couldn't be happier!"
Joseph - Anaheim, American Samoa - Aug 14th, 2022
"I have ordered cards from you at least a few times before and am amazed that I get them so quickly!! I wanted to be sure our granddaughter would get her "first day of school" card on time….now with this last order, she will get it earlier than I had ever expected!! Of course, the quality of all of your cards are SUPER!! Thank you for such a great product!"
Patty - Aug 12th, 2022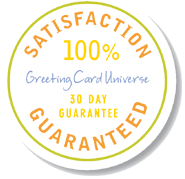 Search was unable to find any results for
"Wedding"
.
You may have typed your word incorrectly, or are being too specific.
Try using a broader search phrase or try one of our most popular search phrases.