Wednesday, September 25th
Teri Francis of Squirrel Hugger, Design Challenge Winner, August 2019
Please list any awards or contests you've won outside of GCU.
I don't usually enter contests. Only did this one because I was curious to learn how to do the Stock Cards on GCU. It was really a fun experience, and I look forward to doing more in the future.
Please list the URLs of your 3 favorite cards in your storefront and why they are your favorites.
All of my favorite cards came about as a result of some personal connection to the intended recipient. I try to keep that in mind when creating cards. What would the person receiving this card need or want to hear? What would mean the most to me if I were the recipient of this card? Those are the 2 questions that I strive to answer in every greeting card I create. Here are my favorites, in no particular order: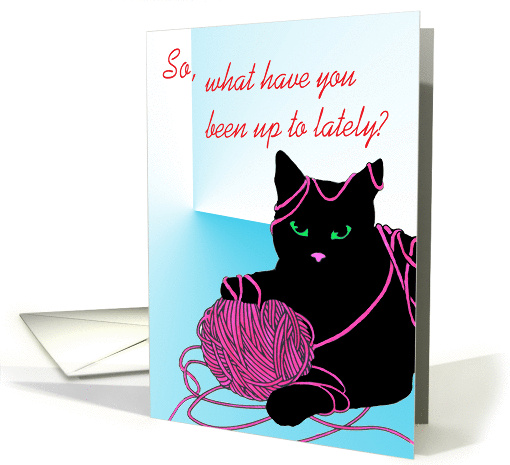 What Have You Been Up To?
Still have the framed photo that inspired this one on my desk. One of our kitties got into the yarn basket and had a ball. We snapped a photo before untangling her. This was originally a pen-and-ink drawing that I later filled in when I scanned it into Photoshop. Not my best work, but certainly my personal favorite.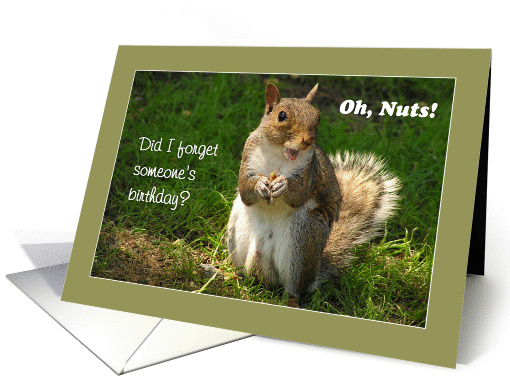 Oh Nuts – Belated Birthday Card
Just happened to snap this photo at the right time to catch the squirrel's expression. I also needed a belated-birthday card at the time. The two just seemed to mesh together in a fun way. BTW–the squirrel in this photo is Buttercup, the same squirrel that is used for my Squirrel Hugger logo. He and his brother were orphans that my mom hand raised and released to the backyard. Anything with Buttercup on it automatically falls into my favorites.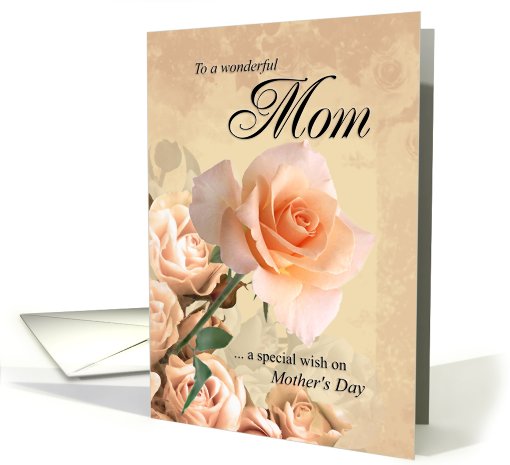 Happy Mother's Day Mom
I got these roses at the supermarket checkout to practice different lighting techniques with a new camera that I had just bought. I set them up in all sorts of different ways, with and without wine glasses, natural lighting, strobe lighting. My mom was there, watching all this go on for hours, assisting when necessary, and ultimately opening the bottle of wine and telling me to take a break after shooting about 400 photos. I have such wonderful memories of that day — and the results are seen in dozens of my cards. This one, after much trial-and-error processing in Photoshop, became one of my favorites, and more importantly it was a card that my mom kept and treasured until the end of her life.
Please list any of your professional social media sites.
I don't do the "typical" social media marketing that most others use. My early experiences with on-line marketing resulted in too many DMCA letters, legal fees, and headaches, so I reverted to old-fashioned B-2-B marketing through emails and newsletter updates to my client list, which includes event planners, hotel/hospitality industry contacts, etc. That's worked out much better for me. As a result of those bad experiences, I now work under several different names, so that if one or two IP stalkers get hold of my work, they cannot rummage my entire collection of work. I do keep a website (DeluxeBridalWeddingInvitations) that is very difficult to find unless you are on my "by invite only" list, and I'm pleased to say that in 7 years that I've maintained that site, there has not been one theft or copy-cat problem. I also do some Pinterest Pins prior to major holidays.
What was your inspiration for your winning card? Please walk us through the process of how these cards went from ideas to greeting cards.
I was working on "coffee" themed holiday card ideas for a local coffee shop owner prior to the Design Challenge. This was my first time trying out the Stock Card creation process, so the first search I did was "coffee Christmas" and I was surprised by how many wonderful images came up in the results. I was drawn to the photo of a coffee cup with the snowflake cream, surrounded by coffee beans. First, it's a great eye-catching image, but most importantly it was winter-holiday themed but without any kind of religious or sectarian references — important for business owners who send holiday greeting cards to customers and clients of all faiths. As a coffee-lover myself, java equals joy — so the first thing that came to mind for the cover text was "Peace, Love & Java". The inside verse was just what every coffee-hound loves to hear, "… filled to the brim …", along with traditional holiday wishes.
What sparked your interest in art? Did you start as a young child?
Yes, I've been drawing and painting from the time I could hold anything that made marks on the walls, lol. Love for animals of all kind has been a passion throughout my life, so it's no surprise that horses, cats, dogs, squirrels and bunnies were my first subjects. When I was in school, I learned to do calligraphy as well as pen-and-ink drawings. Even though all my professional work is done on the computer these days, I still love to pick up a pen with a firm nib and just draw for fun and relaxation. I took up photography as hobby several years ago, again mostly wildlife
and nature shots, but I found a great challenge and fondness for taking photos at sporting, dancing, and auto racing events — basically anything that moves fast. I've shot many events that I had no prior interest or knowledge of, but I've found that looking through the lens of a camera opens up the "creative eye" in your mind to see things you would otherwise miss. And that is something I don't get from simply drawing or painting. I heartily recommend it to anyone who has a desire to pursue a career in creative arts. Just pick up a camera (even a cheap one) and go for a walk on a familiar path — once you start shooting, you'll see things you never knew were there.
Do you have formal training or are you self-taught?
I had some fabulous art teachers in both middle and high school that inspired and encouraged me to continue with art as a major influence in my future. But I was working, and I liked making money, and didn't really see art being a viable career for me. I took business, writing, and marketing classes in college, which came in handy for paying the bills. Then, in my early 40s, life took some unexpected turns, and I found myself being drawn back to art as form of relaxation and coping. I began to learn how to "draw" in Adobe Illustrator (15 years later and I'm still in the learning phase), and around the same time started selling some of my artwork and photos through microstock companies such as BigStock and Shutterstock. A customer let me know she had purchased several of my drawings (Irish-themed) to be used on greeting cards … and it was from that one chance interaction with a customer that led me to look for on-line greeting card suppliers, and I luckily found GCU!
In general, is your work done by hand and then scanned or do you work entirely on the computer?
All of my professional work since 2004 has been done on computer, although I still enjoy doing artwork by hand for my own pleasure. In the early 2000s, I did scan some of my earlier artwork and polished it up in Adobe Photoshop — there are a few of them on GCU and at the microstocks. But I find that the time and detailed "clean-up" work involved with scanning and processing hand-drawn artwork is more burdensome than if I just create the same or something similar from scratch on the computer. There are some artists I admire at GCU whose brilliant brush work and fine art skills would make it worth their time to do such refinements. But my art is not that elegant, so it's really a matter of weighing my time investment.
Have you ever/do you currently have a job other than as an artist?
I'm an old galoot, so I've had many jobs over the years in addition to my on-line ventures. Early in my career I was mostly involved with marketing in the hotel/restaurant/hospitality field. When health and family issues turned my world upside down, I worked part-time for a group of psychologists. That was interesting! I worked for them for 21 years while I was developing my art and learning to sell my work through the internet. There couldn't have been a better team of cheerleaders to have on your side. I retired from the psych practice to take care of my mom, whose physical and mental decline required full-time care.
What GCU artist(s) do you admire?
So many! These are just a few whose work always stands out.
Diana Ting Delosh: Awesome artwork, adorable little animals, very sweet cards.
Maria Dryfhout: Loved Maria's photography (especially of her beloved animals) since my early days in microstocks. She makes beautiful cards.
Sandra Rose Designs: Very professional designs, polished layouts and typography.
Tom Rent: Tom can find a picture, a funny quote, and a reason to celebrate any occasion with a smile. Love his humor.
Norma Comes: Norma has a great eye for color and balance. Loved her work for a long time.
Doreen Erhardt: Doreen is just a fabulous card-maker. She understands both the artistic and marketability perspective. And she is a wonderful, generous person who is always willing to help.
Teri Nelson Kuster: Teri's work is relatively new to me, but her cards stand out, and I'm very impressed with her ability to fashion just the right typography for the design and the occasion.
Squirrel Hugger? Ok, you must tell us where that comes from.
As I mentioned before, animals of all kind have been a great influence in my life. My parents were "pet" people, my mother particularly could make a pet out of almost any creature alive. She would have squirrels, bunnies, chipmunks, and even birds scratching at the backdoor every morning for a handout. And if they were hurt, inside they came to be patched up, fed, and comforted until they healed and could be released. Remember, this was in the 1950s-1960s, and there weren't many wildlife refuge places around in those days. So, as my mom's health declined, I sort of took over feeding and care of the furry and feathered crew outside. When I took up photography, I began with the squirrels, birds,and bunnies in the backyard — they're beautiful, they move quickly and unexpectedly, and they're just darn cute. I posted some of my photos on Flickr, and I was shocked by the interest from all over the world in our little critters, particularly the antics of the squirrels. I soon picked up the nickname "Squirrel Hugger" from those photos. It became my handle on Flickr, and over a period of years, some of our most adventurous squirrels, namely Ratface, Buttercup, and Rambo, have made their way into news articles, advertising, and even television background settings (and some GCU cards too!). So, when I came to GCU and was asked to pick a name for my store, it seemed like a perfect way to pay homage to the adorable fluff-balls that helped me start my on-line business ventures. I've often joked, if I had known then that it might be successful, I'd probably have chosen a different name. But all these years later, I'm so pleased and proud to still be known as "Squirrel Hugger" both personally and professionally.
BTW — While I certainly appreciate and encourage everyone to care about injured and orphaned wildlife, there are so many wonderful wildlife rehab places in every community these days. I'm a strong advocate for helping wildlife best by getting it into the care of professionals who are skilled and equipped to treat and rehab them back to their natural environment.
What would we be surprised to learn about you?
Most people are surprised when they learn that in addition to my obvious interests, my guilty pleasures are Star-Trek, hot-rod cars and the rock band Queen. Captain Kirk and Freddie Mercury reside side by side in posters over the computer in my office. When I'm working, the songs most likely playing in the background are "Don't Stop Me Now" and "Under Pressure." : )