Wednesday, June 23rd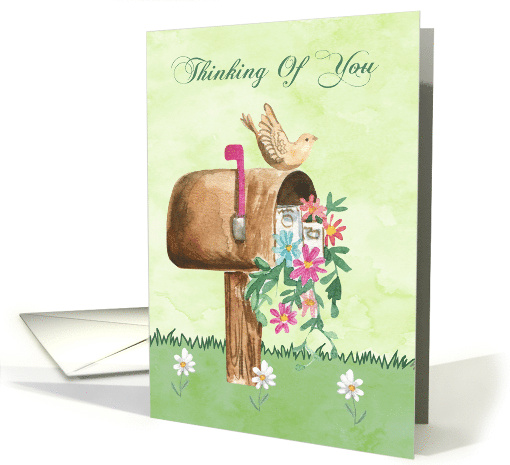 What was your inspiration for your winning card? Please walk us through the process of how this card went from an idea to a greeting card and how you chose your 3 items from the list (a remote control – a mirror – a mailbox – an orange – a daisy – a beach towel – a bird – a coffee mug):
My inspiration for this card was the mailbox. It got me thinking about all the people that we are not able to see because of the pandemic. Then came the bird because whenever possible I put living beings into my designs and then last the daisies I thought added a delicate touch.
This is a wonderful Thinking of You card and fitting for the post 2020 pandemic. What did you do to keep some normalcy and positive outlook during this challenging time?  
How I keep some normalcy and a positive outlook during this challenging time is I concentrate on the things I can do instead of what I can't. I work a lot on my card store, I Facetime with my daughter and granddaughter a lot because Covid ended flying for a time and I spend time with my wonderful husband and other daughter.  2020 was a very bad year for all of us. I hope if nothing else, one good thing comes out of it and that is we all learn to cherish every moment with our loved ones, friends and appreciate the little things in life that mean the most.
We believe you may have entered every Design Challenge.  Bravo!  What advice would you give to other artists who are hesitant to enter?
Yes I have entered every month after the first time I gave it a try. My advice to other artists who are hesitant to enter is why not, what do you have to lose.  It encourages you to step out of your comfort zone and try something new.  If you do win, great if not that's great too because you have added a new design to your store and it just might become a great seller. I personally do not enter to win, I just enjoy the monthly challenge. I look forward to seeing what the theme will be for the new month.

You've been a member of GCU's artist community since 2014.  How have you seen your card designs evolve or change since the early days?
I have seen my card designs evolve and change drastically. The cards I submitted in 2014 in my opinion were terrible and very embarrassing to me.:) I am so grateful to you and to the review team for allowing me the time to learn and all the help so I could remain a part of GCU.  

There are many rewards for the Design Challenge Winner.  Which is your favorite and why?
My favorite reward for winning is the exposure, It brings in a lot of good sales.  

Mid-year is a good time to start designing cards for the Winter holidays.  What are your plans?
My plans for the holiday season is to add three or four new card series for each holiday. In my experience, relationship specific cards sell rather well.  

They say Christmas in July and we are almost there.  How do you get inspired and in the "merry" mood?  
When it comes to designing Christmas cards I am always in the "merry" mood.  I love designing cards for Christmas so it comes easy especially ones I design for children.
Ok, now for the fast five, fun questions …

What's your dream occupation– the one job you'd love to have if you weren't doing what you're doing now?

My dream occupation would be a Wildlife Veterinarian. I think that would be an awesome job. I have always been an animal lover but life led me in a different direction. However, I was lucky enough to work with wild animals for the past forty years as a Wildlife Rehabilitator.
What one accomplishment are you most proud of?

The accomplishment I am most proud of is all the injured, sick and orphaned animals that I have helped and returned successfully back to the wild.
List something that is on your bucket list.
One thing on my bucket list is to go on an African Safari but the problem is my daughters would be terrified and my husband doesn't like to travel. Which means I would have to go by myself and that wouldn't be any fun.
If you could choose your own name, what would it be?
If I could choose my own name it would be Roxanne, I have always liked that name. I did name my dog Roxanne and she is very bossy at times, I'm afraid it might have something to do with her name. LOL
If your clothes had to be one color forever, what color would you pick?
If my clothes had to be one color I would pick red. I would happily wear it forever