Monday, February 3rd
In Remembrance of Dad this Christmas
What was your inspiration for your winning card? Please walk us through the process of how this card went from an idea to a greeting card. 
You asked about my inspiration for the November challenge fusion card design.  Well, this card was inspired by a personal event.  My dad passed away unexpectedly this October and with the holidays approaching I thought about Christmas without my father.  The design challenge asked us to incorporate different elements and glasses and a book were a couple of the items that were mentioned and stood out to me.  I had come across these things in my dad's personal belongings as I was going through his belongings, glasses and a bible.  It all blended together to make the card that won this challenge.
The theme was Fusion Design with a list of specific elements to incorporate into your design.  Was that easier or more difficult for you than GCU's usual design challenges? 
I really liked the fusion design challenge, it gives you a head start in designing a card with items for ideas.  In fact, the first challenge I won a few years ago was a challenge that was similar.  The challenge was to incorporate certain colors and items in the design. I painted my Sleigh bells ring in a winter wonderland card which became a very good selling card for me.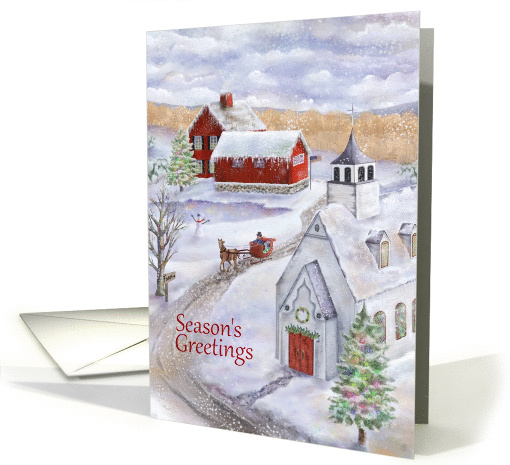 You've won several GCU's Design Challenges, what advice would you give to other artists who are hesitant to enter?
I urge artists to enter the design challenges!   I sometimes feel a bit intimidated in entering depending on the theme or idea I have entered, but, you just never know if your card will be a winner! Try to look over the challenge every month and see if it might be one that pulls at your creative self, design a card, and enter. Ask for help if you are unsure of the rules or how to enter, Doreen is great at getting back to you. Winning challenges has improved my exposure and I am sure it has improved my sales greatly over the years. It's well worth the effort.
You have created many lovely frosty scenery Christmas cards. How do you get inspired and in the "merry" mood?
How do I get in a merry mood:) Well, I have always had a special heart for Christmas.  The colors, the joy, the season of magic. I think about the memories of my childhood Christmases and Christmases with my own children and grandchildren.  I think all these things just tug at me to share my feelings through painting.
Which card is your favorite of your Christmas cards and why?
I looked over my Christmas cards and really couldn't pick out a sure favorite, but I think I lean towards the winter wonderland card and the city park Interfaith card.  I think there is a mood with these cards that people pick up on for their own holiday season traditions.
Tell the truth, did you send holiday cards this year and if so did you send one of your own cards or send a design by a different artist? 
Truthfully, I sent out a lot of cards this Christmas season.  A lot of my own and a few other artists also. I wanted to reach out to family and friends after my dad's passing because that reminded me how important they all are to me.
Ok, now for the fast five, fun questions …
If you had to be allergic to something, what would it be?  
I think it'd be holiday movies. Haha. I can watch them over and over and never get sick of them!
What is one thing you miss about being a kid?  
The simplicity and innocence for sure.
What makes a good friend?  
Someone who is there for you no matter what.
What is your favorite ice cream flavor?  
Chocolate for sure!
What is your hidden talent?  
Repurposing I guess. My mind is always thinking of ways to reuse something instead of tossing it.