Monday, October 21st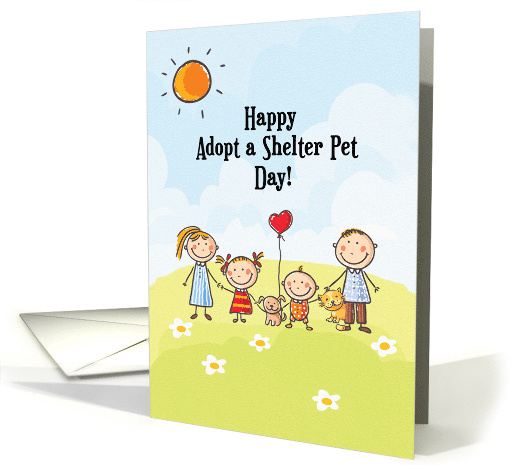 What was your inspiration for your winning card? Please walk us through the process of how this card went from an idea to a greeting card.
I had the email from GCU Forum Wanted Cards in my mailbox regarding wanting Adopt a Shelter Pet Day designs, and as I was scouring my design resources for anything about hands I came across the little family holding hands with a dog and I thought I would address the challenge as well as the Wanted Cards request. Fortunately in the same bundle of graphics there was a cat I could incorporate into the design.
Did this occasion/category resonate with you in supporting animal shelters?  Are you/were you a pet owner?
Most definitely! We have a local woman who quit her job and used all of her built up retirement to create an animal rescue. I once donated many of my cards in a basket for raffles for one of her fundraisers. I also have done a few little designs for her to use on Facebook to encourage people to adopt from her rescue. A couple of  years ago she was featured on the Harry Connick Jr. show. She works so hard as do all of her volunteers to make a difference in animals' lives. I just wish I could do so much more to help.
To answer the second question, Yes, I have had many cats and dogs over the years, all of which have come from a shelter, or in most of the cats' cases, from being dropped off at our house as we live in a very wooded area and people do this thing all the time. It makes me so upset, but at least we have been able to care for most of them and found the others a good home.
One of the rewards to being a Design Challenge winner is being able to use the winning design, should the artist choose, in a new series and using Fast Track review for all cards in the new series.  Will you leverage this design for more cards and if yes, what other occasions / categories?
I haven't given thought to a series with this design.
Holiday card sales are already in full swing.  Do you have new holiday card design(s) that you think / hope will be popular sellers this year?  If so, please share a link.
Yes, I would really like to see this design be popular this holiday season. I am almost done uploading the entire series.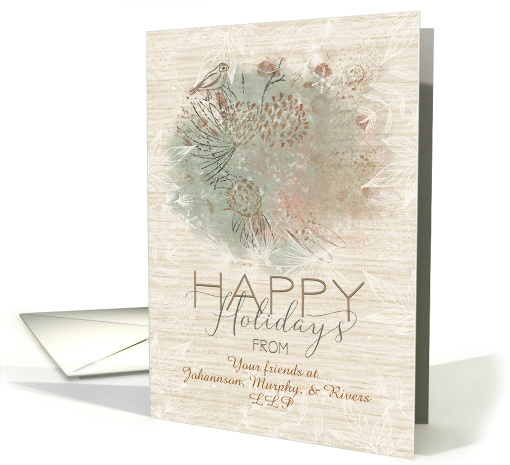 Ok, now for the fast five, fun questions …
1-What one accomplishment are you most proud of?My graphic design work. Never in a million years did I imagine I would stumble upon something that would bring me so much joy and an amazing sense of accomplishment!
I would be remiss if I didn't thank Greeting Card Universe for being the driving force behind my accomplishments. If not for the support of Mindy,Team GCU and the Community members, the entire experience of my design work just would not be the same at all.
2-What's the most unusual item in your desk / work space?
A black and white drawing of Frank Zappa incorporated into an antique vanity mirror that hangs right over my monitor.
3-What is your greatest irrational fear?
I am very afraid of the dark.
4-Who was your childhood actor/actress crush?
Davy Jones and David Cassidy. One day I found out that my mother went to high school with David Cassidy's mother. That was a cool bragging point!
5-What was your first paid job?  What did you love or hate about it?
Working in a little clothes factory with a lot of older local women in the little Pennsylvania Dutch community I moved to during my last 2 years of high school. It was a huge culture shock for me to move from the suburbs of New Jersey to this little place, and oh boy could those old ladies gossip! I found it very amusing, especially because you could tell they were whispering a lot about my friends and I because we were so young and we provided a lot of material for their cackling!