Tuesday, October 23rd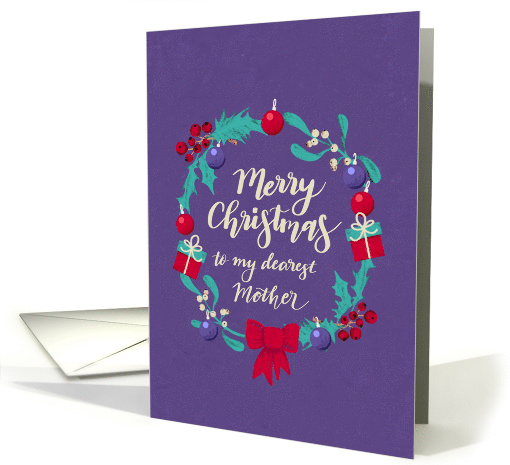 Please list any of your professional social media sites.
What was your inspiration for your winning card? Please walk us through the process of how this card went from ideas to greeting cards.
I wanted to create a card for mothers to honour my own mother and to all the mother's out there who make Christmas so special for us by tireless cooking, cleaning, organising presents etc.  For this card, I started with the typography and then worked on the illustration for the wreath.  I wanted a simple and modern card that would could be sent to all mothers. 
What sparked your interest in art? Did you start as a young child?
I love art as it allows me to express myself creatively.  I started when I was young with drawing horses and using graphite.  I stopped for a while to focus on my studies and career but picked it up again 5 years ago.    
Do you have formal training or are you self-taught?
I am self-taught.
Is your work done by hand and then scanned or do you work entirely on the computer?
I do a bit of both.  I love to experiment with different techniques and materials.  Sometimes I work with gouache/watercolor and then scan my work, other times I use Procreate and iPad/Adobe Photoshop/Adobe Illustrator to create my work.
Have you ever/do you currently have a job other than as an artist?
I currently work in IT Finance full time and am an artist on the side.  One day, I would love to be a full time artist.
What GCU artist(s) do you admire?
Carol Kearns – I love her whimsical and sweet illustrations especially the Christmas ones!
Ron Magnes –  I love how his cards are very original and modern
Mindy Pierce – I love diversity of her cards and her combination of typography and illustrations
Looking at your storefront, typography seems to be a vital element in your designs.  Can you share your thoughts on the importance of typography in your designs?
The balance of illustrations and typography is very important to me especially when creating cards.  To me, sending a card to someone is very personal.  I have learnt to create my own typography to compliment my card designs because I want to provide something extra special and personal to the person receiving the card.
What would we be surprised to learn about you?
My other passion is plants! I have an Instagram account @theoaksprout that documents my indoor plant growing passion.