Monday, September 24th
What was your inspiration for your winning card? Please walk us through the process of how this card went from an idea to a greeting card.
Honestly, I wasn't going to enter the contest until Corrie shared a link to the Nuts and Bolts post with various red, white, and blue color schemes. When I saw the colors on her blog post, I really liked the rustic color schemes. They reminded me of Americana or folk themed art. Since July is really the month to be designing for Christmas, I decided to shoot two cans off the fence with one shot. I just love snowmen and thought it would be fun to try to do a caroling snowman and put him in Americana themed clothing. I knew I wanted to do Christmas trees in the background, and since the theme was red, white, and blue, I thought I could top the trees with red white and blue stars. I had a hard time thinking of the perfect connection between my Christmas theme and the red white and blue theme or stars theme, so I went to You Tube and started listening to Christmas carols while I was designing the card to see if I could find connections because my little snowman was singing caroling. It was a good idea! When O Holy Night began to play and I heard the second line, "The stars were brightly shining," I knew I had found a perfect connection for my card design. Listening to Christmas carols when I design Christmas cards out of season is not out of the ordinary for me though because it is about the only way I can get into the 'Christmas spirit' when it is 95 degrees outside. I know my husband and kids think I am nuts when they walk in and hear me playing Christmas music in the middle of July, but, hey, it works for me. 
You offer many different cards featuring snowmen in your GCU storefront.  What are the key makings of a good snowman and what is your favorite part about making them?
I love snowmen! When I was a kid, I used to love making snowmen outside. I grew up in northwest Ohio, so when you see snow for six months out of the year, you learn to enjoy it and be creative. Really, when designing a snowman, most of mine are pretty similar in that they usually have three sections with carrots for a nose and they usually wear a hat, coat, and mittens, or a scarf and I give them stick arms. I go for more of a traditional, or old fashioned snowman because that is what I grew up seeing. One time I did do a smiling snowman card and put some of my Dad's and my own facial features on it just to see what he would look like and it turned out kind of cool, so I made him into a card and it is available in my first GCU store under the title Jolly Smiling Snowman.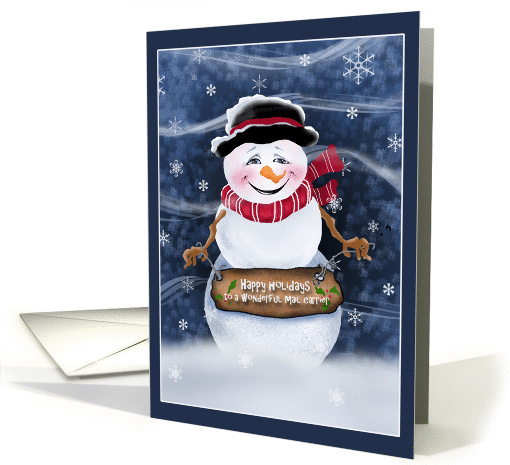 One of the rewards to being a Design Challenge winner is being able to use the winning design, should the artist choose, in a new series and using Fast Track review for all cards in the new series.  Will you leverage this design for more cards and if yes, what other occasions / categories?
I like having the American theme Christmas cards available for people to send to loved ones who may be in the service or far away from home and who would appreciate having a little piece of home with them during the holiday season. That is really what I had in mind when I designed this card. Also I like offering designs for people who just like to send a patriotic themed Christmas cards for the holidays, so I may add a custom front design that people can personalize to send to friends and family. Also, I would adjust it for custom design requests.
We know you start early in the year, Christmas in July, creating winter holiday cards.  After Christmas, what is the next major holiday that you will start design cards for?
After Christmas, I usually end up designing for Valentine's Day or Easter. Sometimes I will consider designing a New Year's card, but more than likely it will be Valentine's Day.
Ok, now for the fast five, fun questions …  
What's your dream occupation– the one job you'd love to have if you weren't doing what you're doing now?
I always wanted to make greeting cards, so I am getting to enjoy that at GCU.
What one accomplishment are you most proud of?
Aside from my kids, I think I was most proud of being invited to the Grand National Rodeo Championship Art show in California in 2008. It was by invitation only and only 500 artists worldwide were invited to show there. So I was honored to be a part of it and be able to show my horse and southwest themed paintings.
Which is your favorite, puppies or kittens?
They are both adorable and entertaining, but kittens are much less maintenance. lol
List something that is on your bucket list.
I'd like to visit Ireland.
If your clothes had to be one color forever, what color would you pick?