Monday, August 6th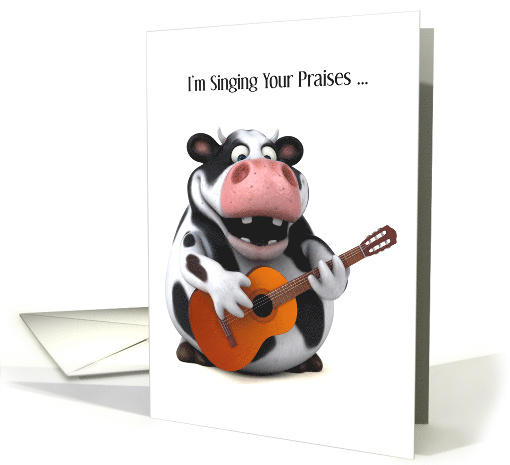 What was your inspiration for your winning card? Please walk us through the process of how this card went from an idea to a greeting card.
When I was growing up, the phrase, " I'm singing your praises" was often heard whenever people wanted to thank you for something you did. When I saw this month's design challenge theme, that phrase instantly popped into my mind. I had never done one of the stock card challenges, so I thought I would give it a try. I looked for animals playing instruments and found this wonderful bull strumming his little guitar and I thought it would be perfect for the sentiment. We have lots of beef and dairy farmers in Missouri and I wanted something that might speak to cattle ranchers in general because they make up such a large demographic here in America and I wanted something that might speak to them and I wanted the design to be a little comical as well because most of the farmers and ranchers I know have a really great sense of humor. So that is how this design came to be.
The Design Challenge was Music Themed Thank You.  Are you musical or play any instruments?
No, I'm not very musical. but I like to sing from time to time when I am by myself.
This was a Stock Card Creation (BigStock) only challenge.  Any tips on finding the perfect stock image?
I think it helps to have a general idea about the message you'd like to deliver and who your target audience will be and when searching for images just be open-minded because you may run across something unexpected that might be exactly what you didn't know you were looking for.
There are many rewards for the Design Challenge Winner.  Which is your favorite and why?
My favorite part of the Design Challenge is just creating something with a theme and seeing what all the artists do with that same theme. I am constantly amazed at how many different things people create with the same theme. If you win that is just icing on the cake really. I like it when the design is featured on Facebook or gets a spotlight on GCU as Design of the Day because it helps spotlight an artist or a particular design.
Mid-year is a good time to start design cards for the Winter holidays.  What are your plans?
Actually, I already have a jump-start on designing for the holiday season. Christmas in July is sort of a great rule-of-thumb for artists who want to get holiday designs submitted. I used the July Design Challenge of Red White and Blue to take an opportunity to design a Christmas card. I like to do a few Patriotic Christmas cards for customers to send to friends or loved ones who might be far away or in the Armed Services and appreciate something from home. I go to Youtube and play Christmas carols to help get myself in the Christmas spirit, so I get a few strange looks from my husband or kids because I play Christmas carols during the hottest month of the year. lol
Ok, now for the fast five, fun questions …
If you had to be allergic to something, what would it be? 

I'd be allergic to sweets, so I wouldn't gain weight. lol
What makes a good friend?

A good friend sticks by your side no matter what. They listen when you need someone to talk to, they pick you up when you are feeling down. And they tell you the truth even when it isn't what you want to hear. They are someone you can count on and laugh with. They care about you and let you be yourself. They also let you be there for them.
Would you rather be a giant rodent or a tiny elephant?

I would be a tiny elephant because I think baby elephants are adorable as can be.
Are you sunrise or sunset? Explain why. 

Sunrise because I think each new day is a brand new beginning with new opportunities to do something new, different or better than before.
If you woke up as a flower one day, what flower would you be?

I would be a daisy because they are the happiest flower.