Monday, June 18th
Julia Bryant of JJBDesigns, Design Challenge Winner,  April 2018
What was your inspiration for your winning card? Please walk us through the process of how this card went from an idea to a greeting card. 
I wanted the card to be funny. I searched for 'funny parrot' in the Big Stock images and this one caught my attention because I thought it would be cute to have him 'squawking' about a birthday. It really did just come together.
We've talked before about how choosing the perfect stock image is challenging due to so many choices.  What about this image did it for you?
I thought he was hilarious and there are several images from this artist with this particular bird and they are all funny. I chose this one because I thought of a cute text to go with the image.
Any tips on choosing the best font color for your designs? 
I choose font color by finding the most vibrant or dark color in my image and then choosing 2 or 3 shades darker for the font color. If it still doesn't look nice, I then choose black or white based on the image background. I find that if you keep the color of the font in the same color family, it enhances the card's cohesiveness.
What's on the drawing board for new card designs?  Anything you're really excited about?
With work and travel right now, I find I don't have much time for design. I am excited for the Christmas cards I hope to get out in the next month.
Your Happy Birthday retro ladies are adorable.  Tell us more about the making and inspiration of these gals.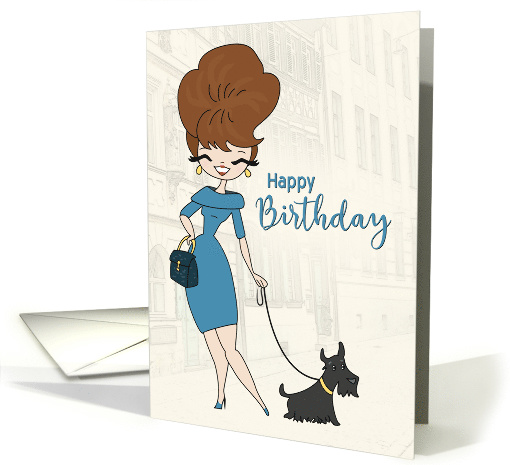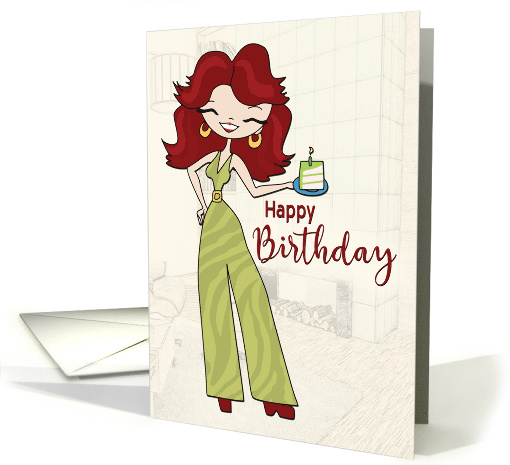 I do enjoy doing women themed cards. I wanted these ladies to represent the diverse types of women and styles. I gave them sassy outfits and hair to really give them an eccentric flair.  
Do you tend to design collections of cards leveraging the same or similar design or onsies?
I do. I have different backgrounds I use over again and change the color to match the card design I'm trying to achieve. I want to spend more time creating better main images.
On GCU artists set the default finish on cards.  Are you a glossy or matte fan or does it depend on the design?
I'm a matte girl.
Ok, now for the fast five, fun questions …  
1.     What was the first concert you ever went to? When I was stationed on Guam, a rock band called Winger came to the island. Looking back, it was one of the best I ever attended.
2.     If you were a vegetable, what vegetable would you be? Rhubarb – I want to be one that people don't like to eat.
3.     What Disney/cartoon character were you inexplicably afraid of as a kid? When I was a kid, the Disney character that freaked me out was Medusa from The Rescuers. She was intense and so mean to Penny. However, this question does show my age.
4.     What sport would you compete in if you were in the Olympics? Curling, because it doesn't look like it has a lot of physical excursion. I'm sure that's wrong though.
5.     Are you a traveler or a homebody? Homebody… I traveled a lot when I was younger. I'm more about staying home now.