Wednesday, February 28th
Design Challenge Winner, January 2018, Ultra Violet – Tammy Moody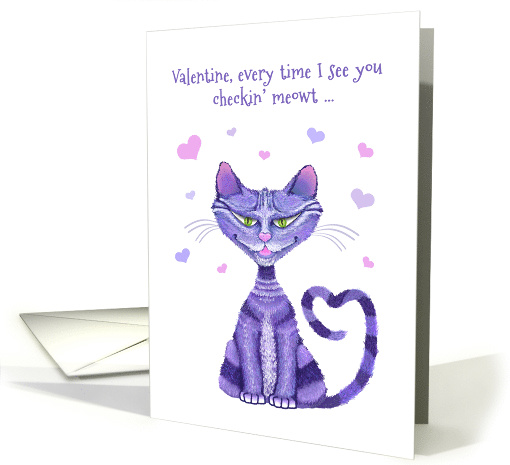 What was your inspiration for your winning card? Please walk us through the process of how this card went from an idea to a greeting card. 
I hate to admit it, but the inspiration for this design began when I was flipping through TV channels and heard a girl say, "He was totally checking me out".  At the time, I was sitting there petting my cat, Meeko. Anyhow, I kept flipping through the channels and what that girl said stuck in my head for some reason Then, I looked down at my cat and he was staring at me, so I jokingly asked him, "Meeko, are you checking me out?" Then, as the words left my mouth, the light switch flipped on, and I made the connection between "Checking me out, and checkin' meoowwwt. Then, as much as I hate to admit it, I repeated it to Meeko like a cat would say it. I laughed, and I could just see this little cartoon cat saying, "Oh yeah, baby, I saw you checkin' meoowwwt," and strutting around like he was totally hot. Then I thought of Peppy Le Pew and how he tried to be such a lady killer with that poor little cat. LOL Valentine's Day was already on my mind anyhow because it was the next big card buying holiday and I thought I could create kind of a Peppy Le Pew type cat character and do a card for Valentine's day for guys to give to their wives and girlfriends. I set about working on the cat and then realized I didn't really have an inside verse that was fitting. The idea for the inside came much later when my husband and I were watching TV and he was petting Meeko and when Meeko started purring and my husband asked him if his motor was running. Then I knew I finally had the purrfect inside for my card.
Your winning card perfectly captures a cat's sassy attitude. What cat experience did you draw from?
I have had cats for the last twenty years. Cats pretty much have a high opinion of themselves anyhow and anyone who has ever owned cats know they sort of have that attitude about them. I currently have five outside cats and two inside cats. One of my inside cats is a male (Meeko) and he frequently goes out to visit the females outside and he has that little strut about him that he uses when he goes outside- like he owns the place and like he thinks he is the greatest thing in the world. I think that is sort why it was so easy for me to envision that little cartoon cat with that, "Oh yeah baby," attitude. Between that and the thought of Peppy Le Pew, it was pretty easy to envision my sassy little cat character.
You've won a prior GCU Design Challenge, what advice would you give to other artists who are hesitant to enter?
My best advice would be don't worry about winning, just look at the theme and see what you can come up with. I like to participate because I like to see what so many different people do with the same theme. I have been in online art groups before though and we always had monthly themes, so I've always enjoyed participating in the theme events. Even if you don't win, you still have a design that you would not have had otherwise. The rest of my advice would be whatever you design, put a lot of thought into it. Make sure the outside and the inside make sense. If it doesn't then keep brainstorming. Sometimes, I write a word out and then see how many different words or things I can associate to that main word. And then I can usually find something to get my creative ideas flowing. Each one of us has a different personality – that little inner voice as well as our own sense of humor, etc. Just tap into your brain and ask what can I design that stays true to my voice, my sense of humor, etc.
You often feature animals in your designs.  Which is your favorite animal to design and why?
I love animals. My Mom was an animal person and it rubbed off. I like designing animals because most people can relate to them. I mean I personally have seven cats, three dogs, and thirty cows out in my field. Plus, I live in the country, so I see lots of wildlife as well. I like designing any kind of animal really, but cartoon animals are my favorite because I can give them human characteristics and features. I like to animate things and give them their own personality.
With the new year in full swing, did you make any resolutions?  If so, how are you doing with them so far? 
I did make a few resolutions, one was to dedicate more time to making greeting cards and trying to be a little wittier while designing. I want my cards to be a little more focused on a specific occasion and I want to create an inside verse that speaks to the occasion as well as match the front of the design. So I am trying to put lots of thought into the cards and verses I am creating before I design and upload anything. Competition is tough, so you really need to do your homework and put a lot of thought into it to stand out, be noticed, and speak to consumers. Sometimes it may take twenty tries, but when you get it right, it is exciting, and it usually pays off. I think it is off to a great start so far because my goofy little cat design has gotten a great response.
Ok, now for the fast five, fun questions …
Fun Facts / Ice Breaker Questions:
What is one thing you miss about being a kid?
One thing I miss about being a kid is that that unlimited sense of adventure and fearlessness that comes with being a carefree kid.
What is your favorite ice cream flavor?
My favorite ice cream is Bunny Tracks by Breyers.
If you had to eat a worm, how would you cook it?
If I had to eat a worm, forget cooking- I'd buy gummies.
Would you rather have 3 wishes in 10 years or 1 wish today?
I would go for 3 wishes in 10 years.
What is your favorite scent / smell?
Wild Honeysuckle.