Wednesday, December 13th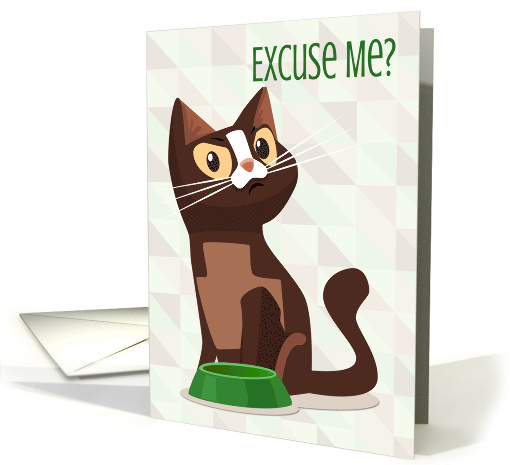 Congratulations to Julia Bryant, Design Challenge Winner, October 2017

What was your inspiration for your winning card? Please walk us through the process of how this card went from an idea to a greeting card. 
When I was thinking of what to do for this challenge, I wanted it to be humorous and capture a cat's attitude. I enjoy cat memes and other stories about cats and their attitudes. I wanted the cat to express his displeasure with its owner for making him wait. I think the frown on the cat says it all.
Your winning card perfectly captures a cat's sassy attitude.  What cat experience did you draw from?
My friend posts about her cat on Facebook. He's really feisty and I think it's so funny. Honestly, I'm a dog person but I do enjoy reading and watching videos about cats and their attitudes.
You've won many GCU's Design Challenges, what advice would you give to other artists who are hesitant to enter?
Get out of your comfort zone for the challenges. I think they are great for drawing out one's creativity and making you think outside the box. Really assess what the challenge is about and then add your flare to it. The more challenging the better, in my opinion.
You have created quite a few cards using GCU's Stock Card Creations. There are so many images to choose from.  Can you share how you go about choosing an image?
I usually look for something very specific when I start my searches on BigStock. I always add adjectives to the searches, so instead of 'Santa', I add 'funny Santa or humor Santa'. And, I always choose the type of image I'm looking for like 'Photo', 'Illustration', or 'Vector Art'. This gives you more results in that medium.
Which card is your favorite of your Stock Card Creations cards and why?
Bailey the Dog Balancing a Cake on her Nose for Birthday card is so funny to me. The other dog looks he's waiting for the cake to drop really sums up that whole image.
The holidays are coming!  Tell the truth, do you send holiday cards and if so do you send one of your own cards or send a design by a different artist?
I do send them and usually choose from my own collection. When I design cards, I have my friends and family in mind, so it usually pertains to them and something they can enjoy.
Ok, now for the fast five, fun questions …
Fun Facts / Ice Breaker Questions:
What is your favorite ice cream flavor? Rocky Road. Having all those textures and flavors in one ice cream is heaven.
Whom would you call for bail money? Nobody, most people I know would leave me in jail.
What is your hidden talent? I can watch two TV shows at the same time and not miss a beat.
If you had to eat a worm, how would you cook it? Grill it for a good flavor.
What is your favorite scent / smell? Vanilla. I love vanilla for everything.