Thursday, September 21st
See Olivia and Company's greeting cards on Greeting Card Universe
What sparked your interest in art? Did you start as a young child?
My fascination with my mother's career is what sparked my interest in art, she was a beautiful portrait artist who worked mostly in oils.  When I was a small child I could always tell when she was painting from afar, I could smell the linseed oil and the paint.  As soon as I sensed that familiar smell I would stop whatever I was doing and make the fast dash to her because I loved to watch her paint.  I truly was fascinated how one small stroke could change the entire feeling of the whole painting, it was like magic.  When she wasn't painting like the masters many of her paintings were filled with whimsy; for example her tiny large eyed angels had wings that where several times larger than the angel and at times the wings would completely fill the page.  My whimsy is totally different but that is where I found my love for art and whimsy.  So yes, I started creating art as a young child, long before I started school.  One of my earlier fond memories of creating art was when I was trying to make profiles of women (I'd say I must have been around 3 or 4 years old).  I thought I was doing a fine job until I stood back to have a look only to realize that my profile had two eyes instead of just one; needless to say I was baffled!  I persevered and finally discovered how to create one eyed profiles, but I must say it was so much fun and a bit magical to create the two eyed versions.
What inspires you/how did your style of art evolve?
It is somewhat difficult to say what inspires me because there are so many things that do; a beautiful flower, a magical dragonfly, children playing, the elderly man sitting on a bench, thunderstorms, cats, silly thoughts, funny sayings, I guess I'd have to say life inspires me.  The mystery of nature, complexity of the living, life's curiosities, and the general question, "Now how exactly did that happen or how was that discovered?".  I have a card about how cow milk was discovered and I think I laughed until tears rolled down my cheeks, I just had to share it so I made it into a card!  As far as how my style of art has evolved that is a wee bit more complex.  When I started on my journey I had my mother as my role model and I was most interested in the serious side of art so that is where I started.  I loved fine art of all kinds, mostly traditional though. I spent quite a few years excited by pointillism; I was inspired by Georges Seurat and his history/evolution.  One of the awesome parts of pointillism was that it is science in art, it combines my two loves (yes I actually love science too) by using retinal color mixing.  However, as the years passed there were some trials and tribulations that we all tend to experience from time to time and because of that I came to enjoy and appreciate the more light hearted styles.  I love to smile, be light hearted and of course laugh until I cry so I decided the best way to accomplish that was by trying to create it in my artwork.
What exactly are "dangles" and would you consider "dangles" your signature style?
I suppose I would if I picked a signature style, because for me personally "dangles" aren't just something hanging around, they are so much more than that.  Dangles aren't bound by the laws of physics like we are which is why I love them, plus they are just so much fun to create!  Dangles can go anywhere they so desire; up, down, at an angle, or swirl around – they don't follow our laws.  Long before dangles had a name I was creating them (this goes back to my mother's whimsical paintings).  It is because of these two reasons I would say probably yes, dangles is my signature style however I'm somewhat hesitant to commit because there so many styles and media that I love as well.
How are Dangles the same or different than Zentangles?
I think the easiest way to explain this is to envision them in a vin diagram, you can have either one style work just fine by itself or use them together.  Both Dangles and Zentangles share quite a few qualities, such as; patterns, lines, and whimsy.  Dangles need dangles whereas Zentangles do not.  Many Zentangle designs include dangles but it is not at all necessary.  I feel that both are a wonderful form of expression, light hearted and fun.  One thing I like about both styles is that you don't have to be an artist to create something wonderful, anyone and everyone can enjoy this creative process.
What do you think about "doodling with a purpose"?
I really enjoy it, extremely fun.
Can you recall getting in trouble or scolded for doodling?
Only in school.
Do you think it's important for an artist to have a signature style?
Yes and no.  Yes, because if you find a style that your customers really enjoy it won't take long for people to recognize your work by your style even if they don't know your name, especially if it is rather unique.  If you are trying to make a living from your artwork this is really something to consider.  Also no, because how are you supposed to learn and grow as an artist if you only do one style?  For me, sometimes I find it enjoyable to switch between styles because it helps to keep the creativity flowing.
What advice would you give artists who are struggling to find their artistic voice or signature style?
Keep working at it, never give up if you love it; try different styles, media, background music, surroundings, and so on.  The reason for this is because you might realize that something as simple as switching the television for lovely background music might just be the catalyst to finding your artistic style.  You never know when you are going to feel that little spark and sense of excitement so keep experimenting until it happens.  Once you experience this sensation you've probably discovered something wonderful – for you.  Take that part and incorporate it into your style, keep doing this until you feel you have discovered the style that is completely and uniquely you.
We understand that you just published a book, The Art of Drawing Dangles.  Tell us about the making of this book.
It was a very busy, busy time for me but filled with excitement.  Race Point Publishing contacted me and asked me to write an instruction book on how to create dangles with an emphasis on the alphabet.  I loved the idea because I was already creating dangled words so I happily agreed.  I was thrilled with the idea of taking the dangle style and teaching others how to create it too.  With dangles as I previously mentioned you don't have to be an artist, anyone can dangle and that is how I approached the book.  I broke every letter of the alphabet down into easy to follow steps. The back sections of the book have a variety of dangles images – crescent moons, mandalas, dreamcatchers, a cherry blossom tree to name a few.  A dangle directory is included as inspiration.  I loved being able to do so many creative images all filled with dangles, it was great fun!
You feature many cute animals & critters in your designs. What animal is your favorite to draw and why?
Totally silly cats!  Cats have so many moods, attitudes, and physical abilities.  They are so animated in real life that it just seems almost seamless (as well as tons of fun) to transition them onto the page.  A few examples are below – from the so sad cat gripping the screen door to King Kitty himself.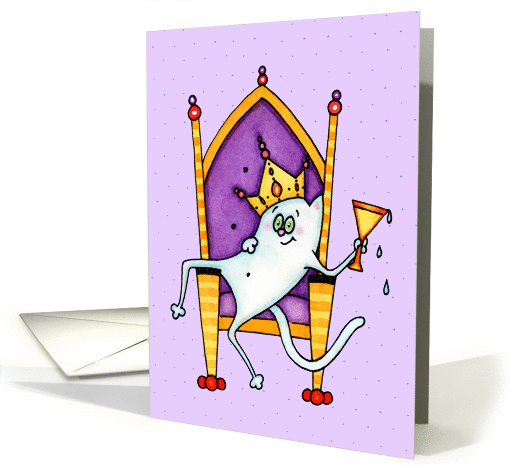 Please share your top 3 favorite cards in your GCU storefront.
This is a hard thing to do because I have favorites in each style and theme.  But, if I had to select only 3 they would probably be the silly/funny ones.  The reason I would pick the silly cards is because I love to laugh and there are some that make me giggle every time I see them.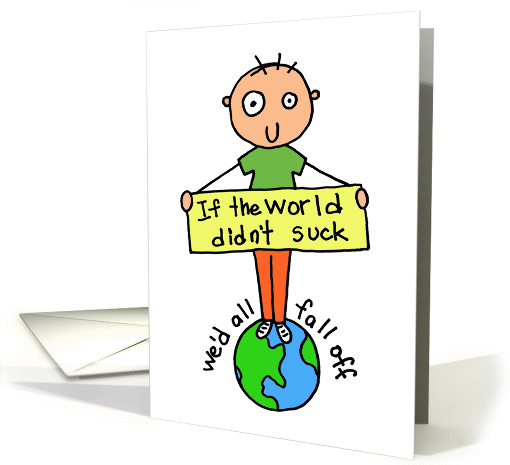 Well, I guess I'm breaking the rules a bit but I would also like to include a card that is sentimental instead of humorous.  I truly enjoy creating this style of art as it is reminiscent of some wonderful times in my childhood.  Simple and vintage but filled with emotion.
Please share 3 artists in GCU's community that you admire.
That would be almost impossible because there are many wonderful and unique artists at GCU; I'm certain I couldn't limit it to just three, maybe 300 or so.  So many artists styles are vastly different and it would seriously be a huge challenge to try and narrow it down that far, I'm sorry.
Please list any of your professional social media sites.
I'm getting ready to start a blog, hopefully I'll have it up within the next few weeks.
Art with Olivia A Kneibler on Facebook
Save
Save