Monday, June 26th
Congratulations to our May Design Challenge winner, Pamela Jorgensen from PamJArts. Her winning card appears above.
Please list any awards or contests you've won outside of GCU.
I did win best victoria sandwich cake at a village flower show in England when I was 12 years old. That was a worthy accomplishment in my small village, unrelated to my artistic leanings but totally worth a mention. I previously belonged to a local art society and earned some minor awards for oil paintings and pencil drawings but generally I have not participated in contests.
Please list the URLs of your 3 favorite cards in your storefront and why they are your favorites.
Cold Get Well Soon Trapped Bug in Medicine Cups Humor card
I chose this card because it was fun to imagine and create a nasty little bug. I made various versions for a few of the common illnesses, and this series was inspired by a co-worker who came down with a case of laryngitis. At the time our own household had seen a round of colds and it seemed the little medicine cups were constantly out in the bathroom. I am very picky about cleaning them out well and that led to the idea of a nasty bug trapped in two medicine cups. I also had fun with the verse because I feel laughter is the best medicine.
Quirky Hipster Retro Gal Valentine's Day for Husband card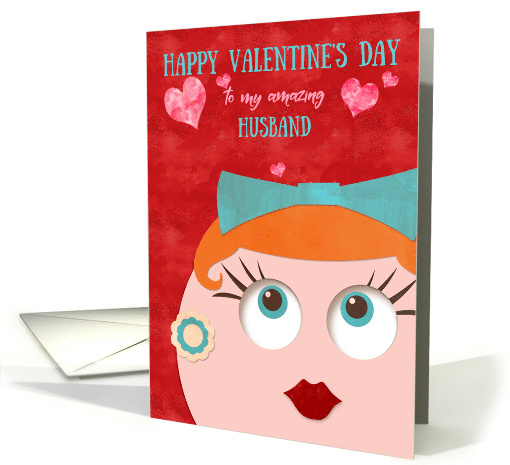 This is a very recent card inspired by playing with simple emojis that I call my hipster girl. She kept evolving as I added more details and took on a retro feel. I was very happy with how she turned out and I hope to adapt her for various other occasions. I did make her into a bride on a recent version, who knows what she will become next. I am not the most disciplined designer. I love the journey and seeing where it takes me.
Braces On Congratulations – Peace Sign Smile Enjoy Braces Girl card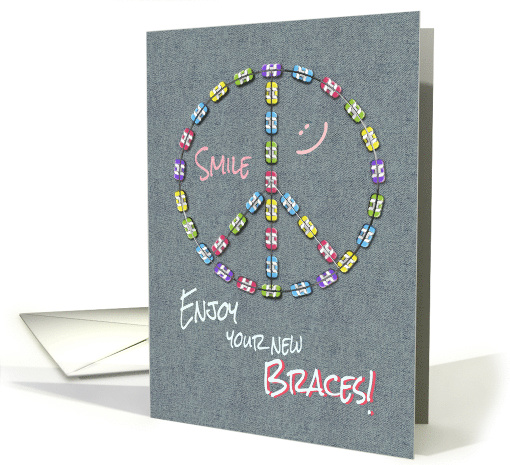 Another card inspired by real life. We went through two rounds of braces on our two girls and it was braces, braces, braces for a long time. This was another design that kept evolving. I created one initial brace and wire and then went on to create various versions, making different colors, different presentation shapes, the possibilities were endless once I had done the groundwork. Thankfully, the braces days are behind us but I still remember the fun I had creating the braces for this design. My family thought I was a little obsessed.
Please list any of your professional social media sites.
I am not very active on social media but you can find PamJArts at PamJArts (pamjarts) on Pinterest
What were your inspirations for your winning card? Please walk us through the process of how this card went from idea to greeting card.
The moment that the challenge was posted it was instant inspiration. I have been living gluten free for around 6 years now. Additionally, one of my daughters has the same gluten sensitivity with the addition of dairy sensitivity. This severely limits our options for eating out and at birthday parties we usually just watch everyone else eat the cake. When I found this cat with its sassy expression I knew this was the image to use and the " Do I look like I eat gluten?" question just popped into my head. I will add that we are not as sassy as this cat and more than happy to skip the cake.
What sparked your interest in art? Did you start as a young child?
I was always drawing or making things. Growing up in the English countryside, I loved drawing mice in imaginary poses, mushrooms and toadstools, the horses that roamed free, the flowers and fauna. At school I used illustration in my schoolwork as much as possible, my notebooks had many colored drawings in between the pages of writing. As a child I was inspired by the art of Beatrix Potter and John Constable and in later years the Hudson River School artists. I have played with most mediums and my creativity was never limited to painting on conventional canvas or paper. I have painted on rocks, furniture, walls, fabric, etched in glass and now create digital art. Wherever the muse takes me, I create.
Do you have formal training or are you self-taught?
I have not had any formal training, I am self-taught but it has always been and remains simply something I love to do. I did take a couple of photography courses back in the days of film that included learning the darkroom process when I was in my early photography phase. Then came digital cameras and Photoshop and that opened up a whole new exciting process to master.
Is your work done by hand and then scanned or do you work entirely on the computer?
The work I have on GCU is created entirely in Photoshop.
Have you ever/do you currently have a job other than as an artist?
I have never formally worked as an artist aside from a second job when I was a teenager fixing typos or errors on advertising posters for a local advertising representative. I have had many different jobs through the years and I have always enjoyed learning new skills. After moving to America I worked as an aircraft parts broker servicing worldwide accounts before marrying and settling into being a stay at home mom. Currently, I am chief operations officer of home and work on my PamJArts ventures.
What GCU artist(s) do you admire?
There are so many artists here who I admire and appreciate for many reasons. The artist community at GCU is like no other.
Doreen Erhardt for her professionalism across the board in creating and marketing her cards and for her generous and supportive work for the artists on GCU. Since we both joined GCU pretty early I was fortunate to get to know Doreen and she never ceases to inspire. I love Betsy Bush's sense of humor and love the fresh look she brings to her cards and the artwork of Barbara Schreiber, she has so many classic and pretty cards with great sentiments. I have a soft spot for Bad Poetry Cards because I like the style of humor, Penny Cork always has great designs and Sue Nollmeyer of Sueshine Studio, and Gail Pepin, are the most thoughtful motivators for their kind card reviews.
Looking at your storefront, you feature some adorable little critters.  Are they part of your menagerie?
We have been pet free for a numbers of years now but in the past we did have hamsters. I have a love of rodents. My daughter just recently got a baby Dalmatian tortoise.
What would we be surprised to learn about you?
I love working on mechanical things and fix my own home appliances. I made the Barbie cake once with an actual Barbie in there. It is legendary at our house and one of my proudest achievements of domestic glory.
Save