Monday, October 31st
Design Challenge Winner Carol Kearns
Which of your cards are your favorites and why?
My favourite cards change all the time but in the kiddies categories I can get very attached to some of the characters I design.
One in particular is My Cupcake Princess. She is one of my most popular kids cards and I took time out from designing cards earlier this year and wrote a children's picture book based on her.
I called her and the book, Marcy Pam.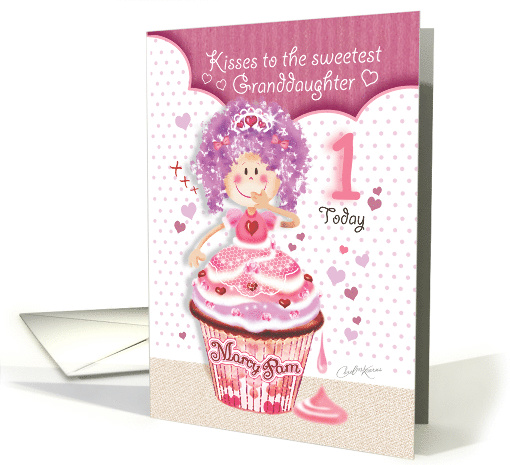 Also this year I wrote a Christmas picture book based on my Christmas storybook card, and called it I've an Idea.
Both these books are in rhyme.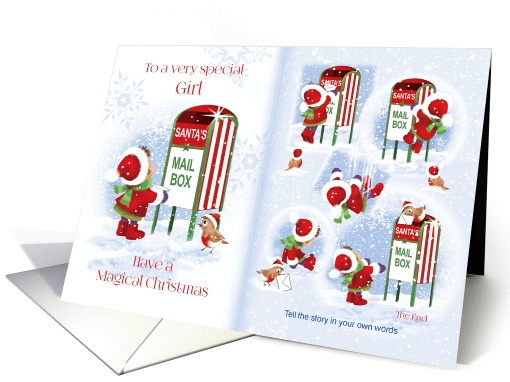 And finally The Snowbies I've written a third picture book this year based on these characters too, but not in rhyme.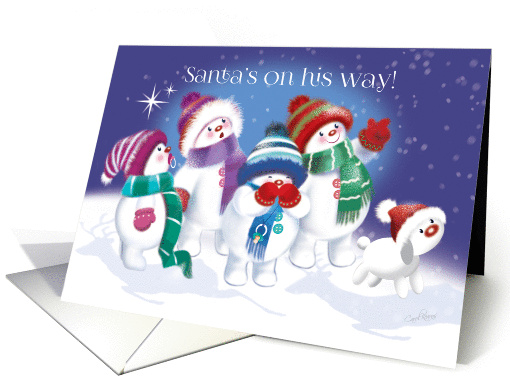 So at the moment, because of all the work I've put in adding additional characters and illustrating these books, I've grown very attached to these three cards.
I'm currently looking for an agent and publisher. Will keep you posted on how that works out.
What was your inspiration for your winning card? Please walk us through the process of how this card went from an idea to a greeting card.
When the September design challenge was posted I was working on Christmas card ideas. One of these was Santa juggling presents. I replaced the presents with sleigh bells and it seemed to work. Santa looked a bit lonely, so for extra fun I added Rudolph on a sleigh ringing a bell. I wanted to tie in a verse to suit the card and it was about a week after I had the artwork finished, when the old saying about 'Juggling too many balls in the air' came to mind. As Christmas can be a stressful time for a lot of people (including Santa) I thought, switch balls for bells and see how that goes. That's usually the way a lot of designs come about. They can start out one way and go in a different direction entirely. Every month I plan to enter the design challenge and never get around to it. First time lucky!!
What sparked your interest in art? Did you start as a young child?
I've been drawing since I could hold a pencil. I can't imagine what it would be like not been able to draw. It's just a natural part of me, like walking and talking.
Do you have formal training or are you self-taught?
I'm self-taught. A few weeks before I was due to attend the College of Art, Dublin, I gave up my place to work in a gallery and design house in London.
Is your work done by hand and then scanned or do you work entirely on the computer?
Most of my work is sketched, drawn and scanned on to my computer, then painted in Photoshop. Sometimes I paint a background in watercolour or mixed media and scan that in too. I've a folder on my Mac of watercolour backgrounds that I've painted over time, and I dip into them when needed.
Have you ever/do you currently have a job other than as an artist?
I've really always worked at art. From working in London, to restoring old books, working as an animator and teaching animation. Art in one form or other has always been my job. Though I did work as a nanny in New Jersey for a very, very, very short time when I was around 23.
What GCU artist(s) do you admire?
Gosh, there's so many GCU artists I admire, too many to mention here. There is just so many art styles to choose from.
I do love Molly Harrison, Diane Duda, Christie Black, Teri Nelson Kuster, Annie Lang and of course Doreen Erhardt and Corrie Kuipers.
What is the story behind your storefront name, Wilbi designs?
A few years ago my mum passed away. She was a huge supporter of my art. I decided to name my store after her and my dad, (who, I'm happy to say is alive and kicking at 86). My mums name was Bridget, but we affectionately called her Bibi. My dad's name is William. So putting the two names together Will, an Bi, became Wilbi. My mum would have loved GCU and my store.
We understand you're a coffee lover.  Where is your favorite coffee shop and why?
I don't have a favourite coffee shop. As I'm still single, and work from home, it can be very quiet in my apartment all day, so I like to work outside for a few hours.
I try to vary it from day to day as I do spend so much time in each one. When I'm not in the coffee shops I fill two flasks of coffee at home, and keep refilling them all day long. I'm addicted.
What would we be surprised to learn about you?
Something surprising about me?  Oh, nothing really. I did live in a hotel for a year in Australia. That was 5 years ago, and no, I'm not rich. It's a long story – maybe for another time.  
Save
Save
Save
Save