Sunday, February 14th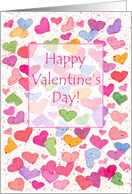 Valentine's Day, that day of love and care, is celebrated February 14. According to the Greeting Card Association, Americans send out 145 million Valentine's Day cards each year. This doesn't include the classroom Valentines exchanged in schools.
Originally celebrated as a liturgical celebration of one of the Christian saints named Valentinus, by the 18th-Century, Valentine's Day had evolved into a day for expressions of love. The oldest paper Valentine's Day card is from the 1400s and is in the British Museum. Commercially printed Valentine's Day cards became available in the 1800s. Second only to Christmas cards in the US, Valentine's Day cards have grown in popularity ever since.
Along with general Valentine's Day cards and cards for family members, Greeting Card Universe has many options.
Anti-Valentine's Day Cards For those disinclined to celebrate Valentine's Day, Greeting Card Universe has an assortment of cards. Don't be bitter on Vinegar Day! Make it a special day for pampering. There are some ideas to get you started in Getting Through Valentine's Day Being Single.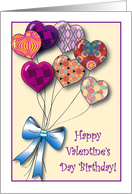 Birthday on Valentine's Day Surely someone born on Valentine's Day is a love child!
Gay/Lesbian Valentine's Day cards Greeting Card Universe currently has 532 cards that speak to the gay or lesbian relationships.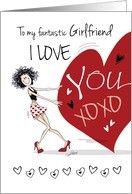 Valentine's Day Photo Cards  Photo cards at Greeting Card Universe are very popular. Take advantage of Valentine's Day to show family and friends your love.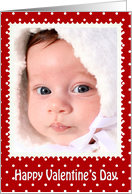 Wedding on Valentine's Day  On average, 2.2 million people get married on Valentine's Day. What a special day to start your life together! And there's little chance that your anniversary will be forgotten!
Secret Pal/Admirer on Valentine's Day  A secret admirer can be anyone: a classmate, a colleague, a neighbor … or someone closer to home: Valentine's Day Secret Admirer Essay