Friday, June 5th

Ramadan is more than a day, for Muslims this religious holiday is a season lasting in 2015 in the US from June 17 to July 17. During Ramadan, a time of spiritual reflection, Muslims do good deeds and acts of charity, pray and fast from sunrise to sunset. Eating is only permitted during the evening.
Traditional foods are enjoyed during the feasts, often shared by friends and family. In fact, some foods are required to be served. Here are some of the traditional dishes of Ramadan's iftar table for various countries when breaking the fast:
In Morocco, chabbakia is a fried dough flavored with orange blossom water and sesame seeds.
In the Middle East, a cucumber and yogurt salad called khayar bi laban is popular. Another salad in this part of the world is tabbouleh, a dish of bulgur, tomatoes, parsley and mint.
Harira is another famous Moroccan dish, a soup made from beef, vegetables, herbs and spices.
In Turkey, Ramazan Kebabi, a dish made from lamb, yogurt, onions and pita bread, is served.
Chinese Muslims enjoy hand pulled noodles called lamian with beef or mutton.
Greeting Card Universe wishes you Eid Mubarak and an easy fast as you observe this important holiday and offers unique Ramadan cards for family, friends, co-workers and others. Order on-line, get free in-store pick-up, usually in 1 hour, at most Target and Bartell Drug Stores. Or order on-line, include a personal message, and we'll mail your cards the next business day.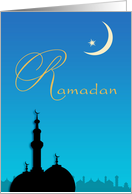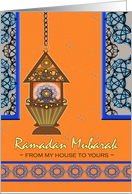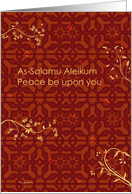 What Are Happy Shoppers Saying About Greeting Card Universe?
"Great quality cards, prompt service….very satisfied with my purchase. A great variety of cards are offered and very convenient to shop from home. I'm a happy customer!!!!" - Dale – June 1, 2015