Tuesday, April 21st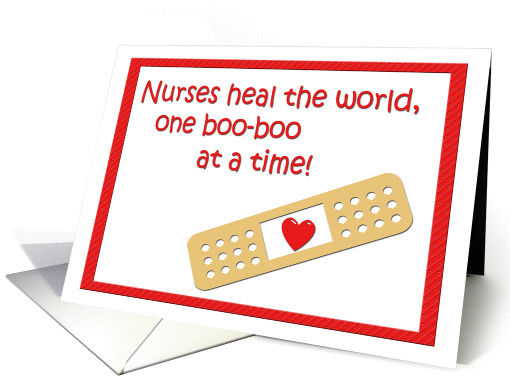 Since ancient times, there have been men and women who assisted healers and physicians with helping patients. Since the mid 19th century and Florence Nightingale's establishment of a formal and respectable nursing profession, other nurses have added their contributions to the professional health care field. Here are three of these extraordinary women you may not know:
Mary "Mother" Seacole: Born in Jamaica in 1805, she became a nurse (though she had no formal medical training) and spent years treating patients in Cuba and Panama during yellow fever and cholera epidemics. After being refused service in the British Army during the Crimean War because of her race, she funded her own trip, founded a hospital, and treated wounded soldiers. After the war, she was eventually honored and given the recognition she deserved.
Mary Adelaide Nutting: A Canadian nurse and suffragette who promoted formal training and education for nurses, in 1891 she was among the first graduating nursers of Johns Hopkins University. Later becoming JHU's second superintendent of nursing, she made improvements to educational standards. She went on to establish new opportunities for nurses at Columbia University, was instrumental in recruiting volunteer nurses during WWI, and helped create the American Journal of Nursing, among other important publications.
Lillian Wald: A nurse and social worker, and advocate of women and minorities, she was instrumental in establishing the Visiting Nursing Service of New York in 1901, which provided much needed health care to indigent and immigrant families. Through her tireless efforts at gaining the support of government health agencies and the Public Health Service, the once deadly cholera and other epidemic outbreaks that swept like wildfire through poorer neighborhoods were greatly reduced. She was also supportive of minority rights and involved in the formation of the NAACP.
On Nurses Day (May 6), Greeting Card Universe joins you in celebrating the dedicated RNs, LPNs and other nursing professionals who work hard every day to heal their patients and help them feel better. Give your appreciation with a unique Nurses Day cards – just order on-line, add a personal message and we'll send your card the next business day. Or take advantage of free in-store pick-up – usually in 1 hour – at most Target and Bartell Drug Stores.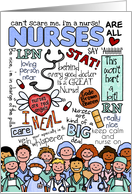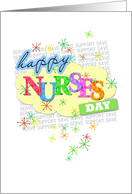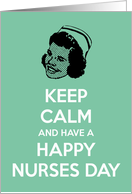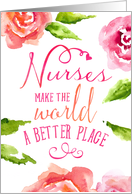 What Are Happy Shoppers Saying About Greeting Card Universe?
"I just got my first order on Saturday, and I was impressed! The cards looked great, they arrived on time, and the prices were so reasonable…now I don't have to settle for the $1 cards from the drugstore! Not that some weren't pretty nice, but the selection (especially for anniversaries) was always so limited. I'll definitely be ordering from you again!" - Lottie – April 20, 2015