Saturday, December 20th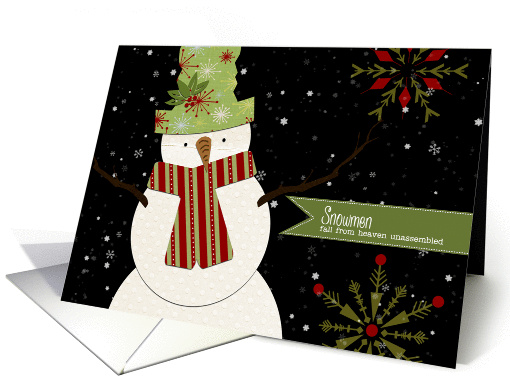 A favorite winter activity around the world is making a snowman (or snow woman)! From simple stacked balls with a carrot nose and coal eyes to much more elaborate and artistic sculptures, the snowman is instantly recognizable no matter the country or culture.
Here's more about the snowman's surprisingly long history.
So far the first written evidence of a snowman comes from a margin drawing in a Book of Hours, an illuminated manuscript from 1380 currently located in the Royal Library of The Hague, Netherlands.
The snowman has been a popular symbol of the Christmas holidays for a long time, particularly in advertising and retail products including a snow cone machine.
The Abominable Snowman (aka Yeti) isn't actually folk art made of snow, but a hairy, bipedal, legendary monster living in the snowy mountains.
In the late 19th and early 20th century, the snowman became the butt of mean-spirited fun, often shown being abused by children in popular advertisements or suffering embarrassing hygiene problems.
The popular holiday carol, "Frosty the Snowman" was written and recorded in 1950 and has since been covered by artists such as Perry Como, Nat King Cole, Ella Fitzgerald, Jan and Dean and Johnny Mathis.
At Greeting Card Universe, our artists love making you smile with snowman filled with the Christmas spirit! Choose from our large selection of Snowman Christmas cards, order on-line, and we'll either send your cards the next business day or you can take advantage of our free pick-up service, usually in 1 hour, at participating Target and Bartell Drug stores.
What Are Happy Customers Saying About Greeting Card Universe?
"I have ordered cards from here several times. They are always of good quality and the selection is beyond what you would find in any greeting card store. There is something here for everyone's taste. Every once in awhile, I buy a selection of cards to have on hand for a variety of occasions. I loved this particular card for Christmas this year because of its simplicity"- Kimberly – December 18, 2014