Wednesday, November 5th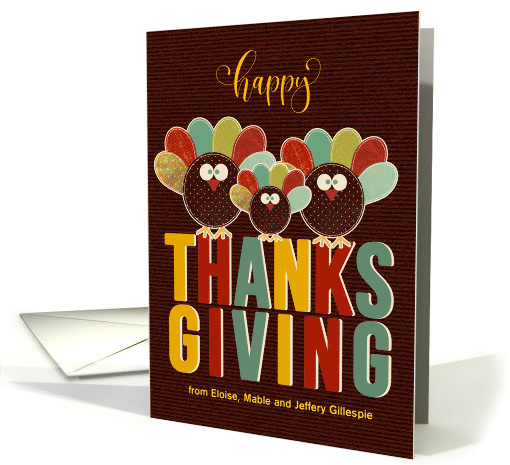 Thanksgiving in the United States, declared a national holiday in 1863 by President Abraham Lincoln,  is celebrated annually on the fourth Thursday in November. Traditionally, Americans sit down to a feast featuring turkey (or another protein), stuffing, side dishes such as mashed potatoes, gravy, sweet potato, corn, etc., and often enjoy pumpkin pie for dessert.
These days, turkeys have been bred and reared to provide as much breast meat as possible. Our ancestors, however, hunted wild turkeys for the dinner table. The turkey is native to the American continent, so when early European travelers encountered this strange new species, they quickly adapted it as the fowl of choice for holiday celebrations. The turkey was  large enough to feed an entire family.
To the colonists, domesticating the wild turkey made sense. The birds fattened up nicely, the meat was flavorful, and killing a turkey for the table was a better option than a chicken since hens were more valued for their eggs. When turkeys were brought to England in the mid-1500s, they became people's preferred feasting food, supplanting the customary goose.
The number of farms breeding turkeys increased in the 1940s, eventually leading to the white feathered, large breasted turkey familiar to modern cooks. In fact, the turkey carried by most supermarkets is the Broad Breasted White. As its name suggests, this bird was bred to supply lots of delicious white breast meat and can weigh as much as 50 pounds!
Greeting Card Universe helps you celebrate the holiday (and the delicious turkey on your table) with unique Thanksgiving cards designed by our  community of talented artists. And you won't leave anyone out of your family feast with our one-of-a-kind Thanksgiving Dinner Invitations.
What Are Happy Shoppers Saying About Greeting Card Universe?
"Love, Love, Love the cards @ Greeting Card Universe!! It's such a time saver for me. I can go online, review the cards, add my personal greeting & with a few clicks, my card is on it's way! I send a lot of cards & frequently rec'v a discount which is great. It all helps! Highly recommend GCU!!" – Janae – November 4, 2014